Alec Stewart: England's batting shows they are mentally scarred

By Alec Stewart
Former England captain and BBC Radio 5 live summariser
Last updated on .From the section Cricket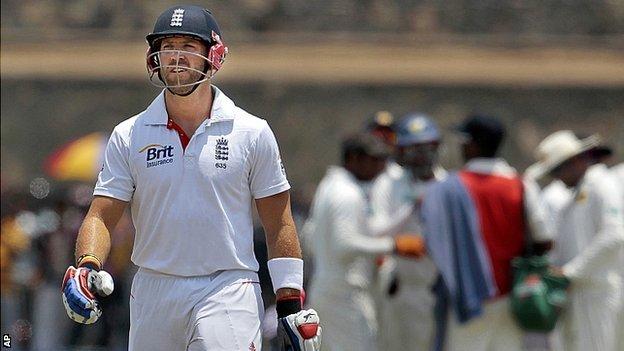 England's batting display in the first innings of the first Test against Sri Lanka was dismal.
They scored at more than four runs per over but were bowled out for 193 in 46.4 overs. That smacks of a batting side who aren't in control of what they are trying to do.
If you look at the dismissals, only Alastair Cook and Ian Bell were really 'got out' by good bowling. The rest were either undone by poor shot selection, picking the wrong length, or pre-meditated shots.
England's problems are mental rather than technical. Speaking from my experiences, once you get a confused and clouded mind, your decision-making can be poor.
The England players appear to be mentally scarred by what happened against Pakistan in the United Arab Emirates, where they came horribly unstuck against two top-class spinners in Saeed Ajmal and Abdur Rehman.
Sri Lanka duo Rangana Herath and Suraj Randiv aren't in the same league as those two but England allowed them to get on top because they didn't have a clear plan of how to play against them.
There were six lbws in the England innings so I wonder if they have let the DRS system get into their heads. Picking line and length early is vital in deciding what shot to play. Once you start pre-meditating and second-guessing, problems start to arise.
England's batsmen should learn from the way Mahela Jayawardene played in the first innings.
He gave a masterclass in how you play on these types of surfaces. He played each ball on its merits, didn't try to over-hit the ball and was in total control of everything he did in defence and attack.
He placed the ball perfectly and nothing was pre-meditated in the way he played. Every England player should be issued with a DVD of that innings.
Bell was the only England batsman who really showed something nearing the same level of skill and application as Jayawardene. He hit a big six early on but he also knocked the ball about and was in control of what he was doing.
People were questioning whether Bell should play after his bad series in the UAE, but he averaged 120 last year and today he proved the old adage that form is temporary and class is permanent.
As for the other batsmen, they certainly owe the bowlers a far better batting performance in the second innings. You can't keep asking them to bowl sides out, have a 46-over break, and then bowl all over again.
Jimmy Anderson and co will be very frustrated, but I don't think there will be any divisions in the camp.
England are a tight unit, and it looks as if the bowlers are going to give the batsmen a chance to redeem themselves by chasing down a gettable fourth-innings target.
If they play each ball on its merits, it may only take a couple of decent partnerships for England to turn this match on its head.