MCC reveals Afghanistan tour plan but rules out Pakistan
Last updated on .From the section Cricket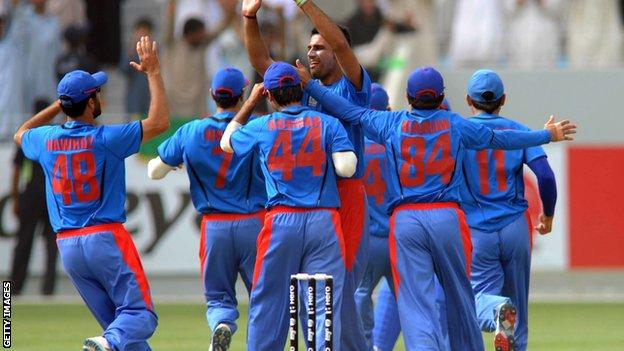 The MCC is planning on sending a team to Afghanistan in the near future, but has ruled out touring Pakistan.
MCC president Phillip Hodson told BBC Test Match Special: "I think there is much more chance of taking a team to Afghanistan than there is to Pakistan.
"I think we could do something in Afghanistan and I don't think it will be long away."
Afghanistan is an emerging nation in world cricket and cemented a place at the 2012 World Twenty20 last week following a 47-run victory over Namibia.
"I am going to Afghanistan to look at Kabul and the cricket pitches we have put in," added Hodson.
Neighbouring country Pakistan, however, has been starved of international cricket since gunmen opened fire on the Sri Lankan team bus in Lahore that left six police officers and a driver dead, and several players and officials injured.
In December, the Pakistan Cricket Board expressed confidence that international cricket could return to the country in 2012.
Hodson, who was watching England's first Test against Sri Lanka, also revealed he was worried about the amount of cricket being played.
He said: "I think Test cricket is much more interesting than Twenty20 cricket, but I think Twenty20 cricket plays a huge part financially in the game as long as we don't overdo it.
"I think there is a danger of overkill. I do worry about burnout of players - they play an awful lot."
The MCC president also gave his backing to the controversial pink ball, used for the first time in a day-night match between Glamorgan and Kent, but believes it will be more useful overseas than in England.
"Will the pink ball benefit overseas night-time cricket? I think it will," he said.
"The pink ball is a great initiative - the Australians are fairly positive. But the quality of the pink ball is key."
MCC's touring teams typically comprise a clutch of former professional players alongside promising club cricketers.