Graeme Swann backs England to beat Sri Lanka in Galle
Last updated on .From the section Cricket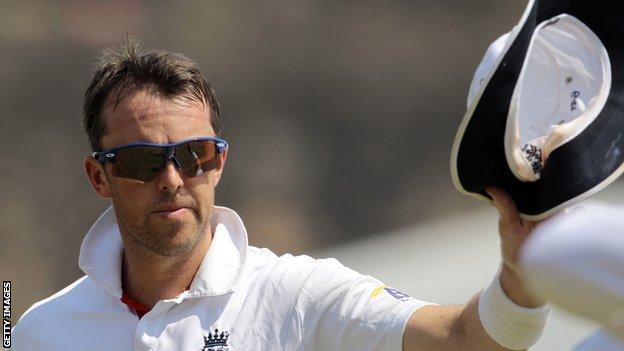 Graeme Swann has backed England to make history by chasing down a fourth-innings target of 340 to beat Sri Lanka in the first Test in Galle.
But Swann, who took 6-82 in Sri Lanka's second innings, told BBC Sport: "If I was a betting man I would back England heavily as we're here to make history.
"Obviously we'd like to chase a few less but we've made a decent start."
England will resume with Jonathan Trott unbeaten on 40 and Kevin Pietersen 29 not out, and Swann believes they can take England towards the target through sensible batting.
"It's a very good deck. It's a slow pitch but the outfield is quick, there are boundaries to be scored and you can rotate the singles as well," he said.
"A couple of the Sri Lanka players showed that with a bit of aptitude and a willingness to stay around you can become very hard to budge and we have to take that on board."
Swann also denied that England's 3-0 series whitewash by Pakistan earlier this year - a series in which no England player scored a century - would weigh heavily on the team.
"It's for the press to say there's extra pressure," he said. "There's pressure every time you're in a chase in a Test and we won't be dwelling on what's gone before.
"There's a Test to be won and a series to be won and that's all we're thinking about."
The weight of history was also of little concern to Swann as Andrew Strauss's team look to surpass the 322 England scored to beat Australia in Melbourne in 1928.
"Whenever you get into a fourth-innings chase you see the scores posted of the largest total but for me that's all poppycock," Swann said.
"History is there to be made and I couldn't give a monkey's if someone chased down 300 in 1912 or 1915 or whatever. It's 2012 and we've got to win tomorrow."
Both former England spinner Phil Tufnell and former batsman Geoffrey Boycott believe England can reach their target.
"England should, if they get their heads down and play the percentages, be able to knock these [runs] off. But I think it's 50-50," Tufnell told BBC Radio 5 live.
Boycott added: "I haven't seen any balls jump and pop. I haven't seen anything that should worry a batsman and if they can stop themsleves from doing crazy things [they can do it]."