Glamorgan hope to carry on Welsh sporting success
By Edward Bevan
BBC Wales Cricket Correspondent
Last updated on .From the section Cricket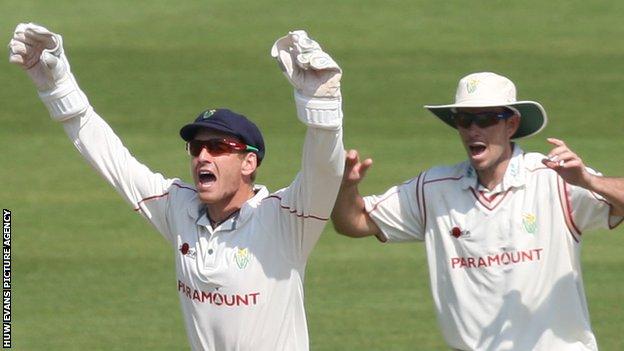 BBC Wales cricket correspondent Edward Bevan assesses Glamorgan's chances of success ahead of the 2012 season.
Glamorgan will be hoping to sustain that Welsh dominance during the summer and continue that feel-good factor in Welsh sport and compete strongly in the three competitions.
After the upheaval at the club during the winter of 2010/11, and with two captains having left in successive seasons, Glamorgan have this year appointed a leader in Mark Wallace who is respected by everyone in the game.
Captain Wallace land coach Matthew Mott have a reputation for thriving on hard work and if the club do not succeed this season, it is unlikely to be from lack of effort from those at the helm.
Early in 2012 Glamorgan had been hoping to include two recognised international batsmen for the opening games of the season. But after Marcus North had delayed his arrival for five weeks, Alviro Petersen dropped a bombshell by stating he would not be available as a Kolpak player.
The Kolpak ruling meant players from places with associate trade agreements with the EU - such as South Africa - did not have to count against a county's overseas quota.
Petersen, last year's captain, assured the club throughout the winter he would return after scoring a century for South Africa on his return to Test cricket.
But he then changed his mind, and although anyone has a perfect right to represent his country before his club, Glamorgan were aggrieved Petersen had given them little or no warning.
He has subsequently joined Essex for the early part of the season, and despite numerous requests from the media, the South African opener has refused to be interviewed and explain his side of events.
The club have subsequently signed 25-year-old Australian all rounder Moises Henriques, who has played two one-day internationals and one t20 game for his country. He worked closely with Mott at New South Wales and the Glamorgan coach has stated that Henriques: "is exactly what we need and will fit in well with our squad".
With Petersen and Australian opener Mark Cosgrove no longer around, Stewart Walters is likely to partner Gareth Rees at the top of the order. Walters signed off with a score of 147 in the final championship game last season and also topped the batting averages.
He has the ability to make a major impact this season, as has William Bragg who struck eight half-centuries and a century at number three last year. With North at number four followed by Ben Wright/Nick James, Jim Allenby and Wallace in the middle order, Glamorgan should not be short of runs.
However, consistency is the hallmark of any successful batting team, and Glamorgan's batsmen will be looking to convert 50s into 100s at every opportunity.
Glamorgan had been hoping their bowling attack would again centre around James Harris but the leading strike bowler has suffered a frustrating winter with an injury which required a hernia operation in February, and he could miss up to the first month of the season.
Fortunately Huw Waters is fit again following a lengthy lay-off last summer, and will be included in a seam squad which also includes Graham Wagg, Allenby, Henriques, as well as the two improving young seamers Will Owen and John Glover.
Glamorgan are fortunate to have Dean Cosker as a worthy successor to Robert Croft as their leading spin bowler. Croft, who turns 42 in May is as enthusiastic as ever, and will certainly feature in the t20 competition where he was the county's leading bowler in 2011.
After an underlying sense of treading water last year rather than making progress, Glamorgan need to move up a gear or two. The bookmakers have them finishing in mid-table in Division Two of the championship, and not qualifying for the last eight of the one day competitions.
Those odds are favourable and I would wager a few pence that they could surprise many people, and be among the front runners come mid-September.