Northants' Andrew Hall hails 'best' team atmosphere
Last updated on .From the section Cricket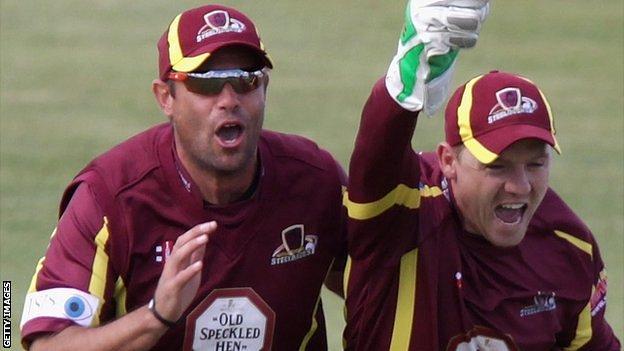 Northants captain Andrew Hall is confident hard winter training and a positive dressing room atmosphere means they are well prepared for 2012.
Hall told BBC Northampton: "It was very frustrating to just miss out for the second time in three years.
But we increased intensity in winter training and this is probably the best dressing room I've been in in my life."
Hall continued: "We've got guys fighting for positions and guys that are happy to be part of the system.
"I don't think that we'll be in the top 16 counties when it comes to salaries. I think we're in the lowest three.
"[So] when I look at my players, I know that there's 17 guys who are desperate to get on the park and play well."
Northants won five of their first eight Division Two games and picked up five successive victories in the CB40 in 2011.
But they were pipped to Division One promotion by Surrey and Middlesex and went on to finish third in their CB40 group.
The Twenty20 campaign saw them record just two wins as they ended bottom of the North Group, having reached at least the quarter-finals in five of the previous six seasons.
"The guys have come in [to train] pretty much every day since late October. Hopefully, come the end of the season, we'll have some opportunity to celebrate."
Head coach David Capel believes they are as well prepared for the new season as they could be, although unlike last season, there has been no pre-season tour to South Africa.
"We've been very fortunate with the weather. We recognise the benefits of having that preparation overseas but we were lucky to get hold of Cambridge University and we have Middlesex [to come]," said Capel.
"And we've had some cricket amongst ourselves, a two-day game which was a very useful exercise."
Hall is set to miss the four-day season opener at Derbyshire and potentially the match against Kent.
"It's a slight calf injury and I'd rather make sure he's fit than take a risk at the start of the season. I know he'll be itching to get out there," said Capel.
"I've asked David Sales [to be captain] for the first couple of games. He's looked a class act.
"It's very tempting to get Alex Wakely to captain the side, but I just feel he [needs the opportunity] to concentrate on his batting at the start of the season.
"With David having as much experience as he has, and being in a very good place as a person and scoring runs, I think it's the right decision."
In new arrivals to the team, second XI seam bowler Sam Sweeney has signed a two-year deal and left-arm spinner Con de Lange has joined the club, having taken 175 wickets in spells with Boland, Cape Cobras and Eagles in his native South Africa.
And Australian Cameron White will arrive for the T20 campaign - an addition that has been welcomed by his new team-mates.
"We've got some good batsmen coming through and David Sales looks really good [but] having Cameron there will really boost our boundary hitting ability," said Alex Wakely.
"We've missed that power-hitting at the top of the order, so hopefully he can add that," said Stephen Peters. "Obviously he's got a wealth of experience in T20 so we'll be trying to learn a lot from him."