Sri Lanka's Thilan Samaraweera scores two millionth Test run
Last updated on .From the section Cricket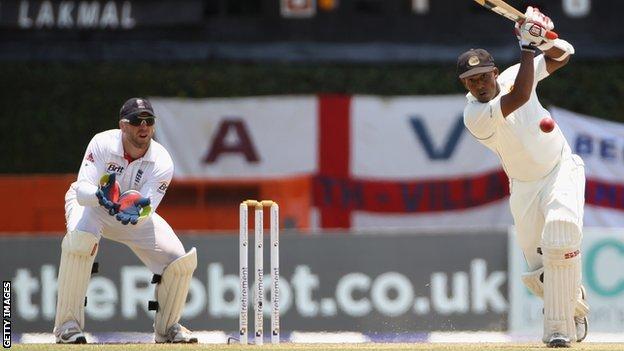 Sri Lanka's Thilan Samaraweera wrote himself into the record books in the second Test against England by scoring the two millionth run in Test cricket.
Batting at five, he brought up the milestone with a nudged four to fine leg off Steve Finn at the end of the 10th over of the first day in Colombo.
The 35-year-old went on to make 54 before falling lbw to Tim Bresnan.
It is 135 years since Charles Bannerman scored the first ever Test run, but just 26 years since the millionth.
Batting for Australia against England at Melbourne Cricket Ground in 1877, Bannerman faced what is recognised as Test cricket's first ball, and scored the first run off the second ball of the day.
He went on to score the first Test hundred and become the first batsman to retire hurt in the same match.
The millionth run took 109 years and 1,054 matches to arrive, and it is still a matter of debate which batsman scored it.
The milestone was reached in a match between Australia and India on 19 October, 1986.
In the 83rd over of Australia's second innings, Allan Border hit what many believe to be the millionth run off the final ball from Raju Kulkami.
However, South Africa's second-innings total in a 1906 Johannesburg Test has been retrospectively changed by one run - an alteration supported by a surviving scorebook - which would make Dean Jones's single off the ball before the crucial run.