Essex defend role in Mervyn Westfield betting scam
Last updated on .From the section Cricket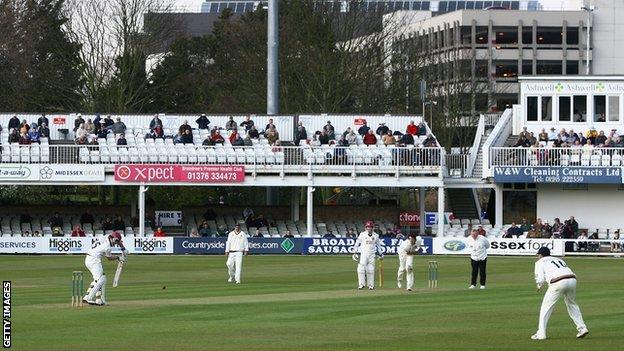 Essex have defended the role of their squad and management in the Mervyn Westfield betting scandal.
During Westfield's sentencing it was suggested by the bowler's defence that team-mates had been "turning a blind eye" to the corruption.
But Essex said in a statement: "The game owes a debt to... the Essex players who came forward."
Westfield received a £6,000 payment for conceding 12 runs in his first over in a televised match against Durham.
Judge Anthony Morris stated in his sentencing remarks that the scam had been orchestrated by Westfield's then team-mate Danish Kaneria.
He added that Kaneria "had made similar approaches to other Essex players who had laughed them off as a joke".
Kaneria, who was arrested and released without charge by Essex Police in October 2010, has denied any wrongdoing.
The scandal followed the convictions of former Pakistan players Salman Butt, Mohammad Asif and Mohammad Amir for their part in a conspiracy to bowl deliberate no-balls during a 2010 Test against England.
Essex's statement has been released on the same day as the club's pre-season press launch and 48 hours before their County Championship season-opener against Gloucestershire at Chelmsford.
It reads: "Essex Cricket wish to make it clear that the players and management involved in the discovery and reporting of suspicions concerning the possible collusion of Mervyn Westfield and Danish Kaneria in spot-fixing at the club in 2009 which ultimately led to the conviction of Mervyn Westfield, took the correct action in reporting those suspicions.
"What the English domestic game has learned since early 2010 and the events that then took place in the late summer of 2010 during the Pakistan tour has fundamentally changed our knowledge and response to the threat of corruption in English domestic cricket.
"The sport is in a better situation now as a result of greater knowledge, new regulations and better education across the board.
"The game owes a debt to the positive actions taken by the Essex players who came forward. Without them, the corruption that occurred may never have been exposed.
"As the incidents and protagonists are now the subject of regulatory proceedings and investigations, until those are concluded neither the club nor the players will be making any further comment."