Junaid Khan set to make Lancashire return
Last updated on .From the section Cricket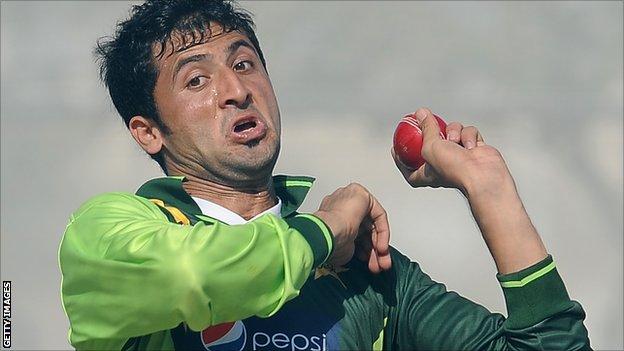 Junaid Khan will return to Lancashire in June, subject to approval from the Pakistan Cricket Board.
But he was unable to play in their semi-final loss to Leicestershire after receiving an international call-up.
Junaid will be available to play in all competitions and could remain at Old Trafford until the end of the season.
Director of cricket Mike Watkinson said: "Junaid gave some outstanding performances for us in T20 cricket last season, particularly with his bowling at the end of an innings.
"He is also keen to spend additional time around the squad so that he can continue to develop his all round game."
Junaid, who played in the second Test of Pakistan's recent series victory against England, made eight T20 appearances for Lancashire last season, taking 12 wickets at an average of 15.50.
Meanwhile, Moores believes the return of experienced batsman Ashwell Prince will be a huge boost to Lancashire's chances of retaining their County Championship title.
The 34-year-old, who has played 66 Tests for South Africa, will play in both the Championship and the CB40 in 2012.
"We know what we're going to get, both on and off the field," said Moores, who guided Lancashire to their first outright Championship title victory since 1934 last September.
"He's a special individual, a really tough competitor and great in the dressing room, but when he really shines is when it really counts.
"When we've had to win games or save a game under pressure, he's always stepped up and played his role.
"That's something that the lads learned from him the last time he came - the importance of being able to raise your game when it really counts.
"They did that last year without him and he'll be a great addition to have this year."
Lancashire open the Championship season against Sussex at Liverpool on Thursday, 12 April.