Sri Lanka v England: Jonathan Agnew column

By Jonathan Agnew
BBC cricket correspondent in Colombo
Last updated on .From the section Cricket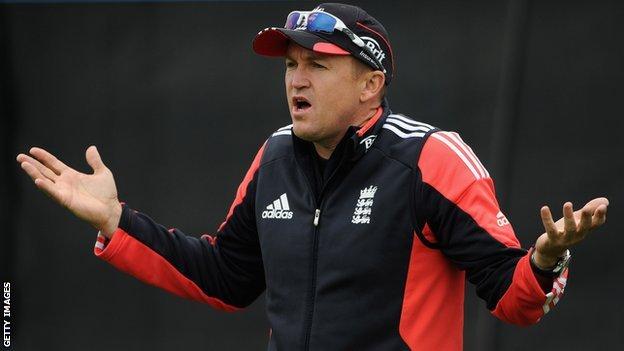 Andy Flower can sometimes get agitated and his remonstrations in Colombo, after umpire Asad Rauf's decision to give Sri Lanka's Thilan Samaraweera not out was upheld on review, summed up how the England coach was feeling.
England are desperate to win the match - they have been getting flak over their performances this winter and face losing their number one Test status - and it was a long, hot day.
Samaraweera was given not out by the on-field umpire after Alastair Cook took a catch at short leg off the bowling of Steve Finn, with debate centring on whether the ball struck his glove before hitting his thigh pad.
If Flower, who visited the match referee to remonstrate, thought it should be given out then he is entitled to seek an explanation. But it was a very difficult one for the TV umpire Rod Tucker to overturn.
There was talk of there being two noises but there was nothing on the pictures that proved conclusive. The issue merely highlighted the failings of the DRS.
Despite Flower's evident frustration, England went on to have a decent day, restricting the hosts to 238-6, a total his side would have taken at the start of play.
I thought they had a better balance to their bowling attack in this Test - they are used to the formula of three seamers and a frontline spinner.
James Anderson is one of the best quick bowlers in the world right now with his orthodox and reverse swing at pace, and all from an economical run-up. He gives the captain real control - every ball is a potential wicket.
With the new ball, there was a bit of zip there and there was also some there with the second one.
The three wickets Anderson got at the start, reducing Sri Lanka to 30-3, left the door open for the tourists. Mahela Jayawardene once again played a very patient and disciplined innings to deny them but, in the final session, the bowlers kept going.
The two seamers they brought in, Tim Bresnan and Finn, bowled pretty well given they had not had much practice.
At the close, you would rather have been in England's position than Sri Lanka's. If they can get the hosts out for 270 or 280, that gives them a platform to go out and bat. Day two is going to be a belter.
A real key to the outcome is how England perform in their first innings. There is no rush. There is plenty of time to go out and build a concrete base.
I wouldn't put it past them to succeed. There is added incentive because Andrew Strauss is under the microscope. There will be a backs-to-the-wall mentality and a sense of wanting to do it for the skipper.
They will also want to win because of the disappointing winter that they have had. All the lessons, frustrations and disappointments can be used constructively and they have a chance to show that they have learned.