County Championship: 'Stronger' Lancashire ready to defend title
By Marc Higginson
BBC Sport
Last updated on .From the section Cricket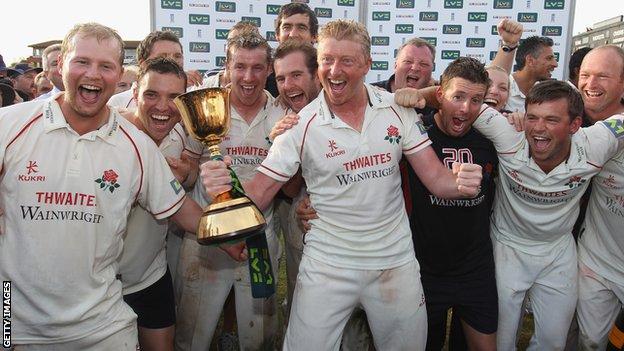 For generations of Lancashire cricketers, the eve of the new county season has traditionally brought questions about the past.
The annual reminder that they had not won the County Championship outright since 1934 was clearly a burdensome business to some.
Not any more, however, after last season's thrilling final-day success.
The Championship trophy now takes pride of place at a redeveloped Old Trafford and, after waiting so long to become champions, the club are determined not to let the title go.
"Being the defending champions is a great feeling," fast bowler Sajid Mahmood told BBC Sport.
"We did not surprise ourselves last year - the only surprise was how long it took us to win it.
"We played some good, aggressive cricket and, at times, played teams off the park.
"The lads were mentally tougher and there were certain phases in matches where we had to win and accelerate the game in our favour, and we did that.
"We can take those experiences into this season. I think we will be a better team."
Mahmood is one of several homegrown players in the Lancashire set-up, and the former England paceman puts much of his side's success down to the club's flourishing academy.
Players like Karl Brown, Steven Croft, Gareth Cross, Simon Kerrigan, Kyle Hogg and Tom Smith have risen through the ranks to become key players under the guidance of former England coach Peter Moores.
"It was a fantastic achievement to win the title with so many homegrown players," said Mahmood. "We don't depend on a superstar coming in and doing it for us.
"Everyone chipped in last season. You can look around the changing room and point to a player and name matches they helped us to win.
"Players like Karl Brown have done fantastically well for us - I have said for a long time that he will play for England one day.
"Simon Kerrigan has come in too and he is one of the best spinners I have seen. I think he is the best spinner going in the county game.
"I would be very surprised if he didn't get an England call-up soon."
Much of Lancashire's success last season was attributed to playing their home matches at outgrounds like Liverpool and they begin their defence of the title on Merseyside against Sussex on 12 April.
However, they will split their time between Liverpool and Old Trafford this summer - something that pleases Mahmood.
"We showed last season that playing on result wickets was good for us," he said.
"We want to play cricket where we know we can put all our skills on the line and there will be a result at the end of it. There is more pressure in games, and you want your skills to come to the fore."
After waiting so long to get back to the pinnacle of the domestic game, it is no surprise Lancashire intend to stay there.
And spin bowler Gary Keedy, who is beginning his 17th season with the county, knows more than most what it meant to update the history books.
But now it is a different statistic that is playing on his mind.
"I read it is 84 years since we last defended the title, so we want to achieve that," he said.
"It was great to win it last year, but this is a new season that brings new challenges because there are some good teams out there.
"The good thing about the team is, besides myself and Glen [Chapple], the majority of the team are young Lancastrians who have all grown up together.
"They are a year older and more experienced this season, and if they keep on developing they can be a force for a very long time."