Kevin Howells talks to Surrey bowler Jon Lewis

By Kevin Howells
BBC Radio 5 live
Last updated on .From the section Cricket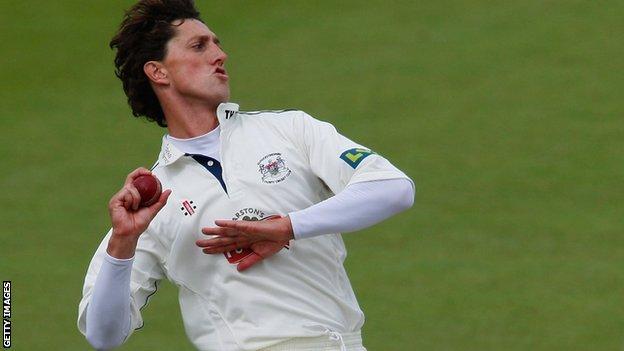 New Surrey bowler Jon Lewis is looking forward to life back in the County Championship's top flight with his new club, but insists that for younger players it should not be treated as the best or only route to the top of the sport.
At 36, Lewis is in the twilight of his career, is much travelled and has played 228 first-class matches. He has one England Test cap (against Sri Lanka in 2006), 13 one-day internationals and a couple of T20 games for his country as well.
After 17 seasons with Gloucestershire, three as captain, Lewis has already seen a few things in London he has not seen in Bristol but the truth is no matter what lies outside those Oval walls it is what takes place inside which interests him most.
"This is an emerging team and when I signed for them last July I really felt it was a side I could add some strength and experience too and help guide on the field," he commented.
"The exciting thing is this team has progressed a lot quicker than even I thought at the time and they've now got confidence to go with that ability. I think we can challenge on all fronts this year."
Lewis was not desperate to leave the West Country and only hindsight allows him to realise that is perhaps what he needed.
"Twelve months ago I would have said no," he said. "I enjoy the challenge of what I do at Bristol and then you come here and things are new and fresh and you take in a lot of new things and meet new people and I'm really enjoying myself."
Silverware at Nevil Road has been sparse in recent seasons but Lewis has enjoyed winning trophies in one-day cricket with his former club. I wondered if with two divisions he thought it was becoming more important for younger players not to drift in the second tier and look for opportunities at those clubs in the top league? His reply: "I don't think it's as important as some people make it out.
"There are some good quality cricketers in the second division and some good clubs there. I think there is a slightly better chance of you playing for England if you perform well in the first division but we only play divisional cricket in the four-day game and through to the Test side.
"I do believe the selectors are very open to pick guys who are performing well. Especially now they'll be playing with the same type of ball in both divisions."
Generally speaking the clubs in Division Two are those who are more likely to struggle financially, ignoring the international grounds with huge debts hanging over them. But Lewis believes that if a club is perceived to be less flash with the cash, that could provide young players with the ideal star.
"If I was a young player and I was looking around the counties I'd be thinking 'why not go and play for a club like Gloucestershire?', because there I'm going to play first-class cricket and there might be more opportunity for me to play," he said.
"If I were 18 again I might be thinking I'd move away from one of the bigger clubs if I felt my chances were to be restricted in the first division to prove myself and then perhaps move on."
As for what he now expects from the opposition in the top flight? Well a depth to sides and the overall competition which you do not always find in the second tier.
"More games will go down to the last session of the last day as Lancashire proved last year when they came strong in the 12th session of the match," said Lewis. "Division One teams are slightly more resilient and it's slightly harder to win".
It is also the reigning champions Lewis looks to for reasoning that Surrey can cope with the step up when comparing the mix of youth and experience in their respective sides. "Big ground, big place," he stated.
But he stopped himself from saying the move had taken 10 years off him, although he looks a man not feeling his 36 years this pre-season in SE11.