Durham seamer Graham Onions keen to sizzle for England
Last updated on .From the section Cricket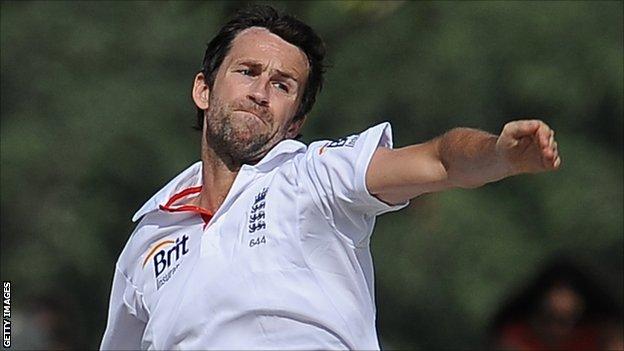 Slight, lean and with little flecks of grey creeping into his stubble, Durham's Graham Onions is older and wiser coming into his ninth season of first-class cricket.
The Gateshead-born seamer might well have been slugging it out with England in the humidity of Sri Lanka this month, but instead the impending County Championship season is the focus.
After spending the winter as part of Andy Flower's squad in Pakistan, the 29-year-old has returned to the county scene with an eye on regaining his place.
"I still have a massive burning ambition to play more games for England, whether that does or doesn't happen," he told BBC Newcastle.
"I want to challenge myself and be as good as I can be, and if I do that and don't play for England, it's good for Durham.
"Durham have got a fantastic squad, a great blend of youth and experience and I'm coming into the category of experience now which is nice.
"I want to lead the attack, and be someone the bowlers can look up to."
It has been injury rather than form that has limited Onions to just 28 Test wickets since his explosive 2009 debut against the West Indies.
Ankle, back and knee problems have struck previously, with the back injury in particular ruling him out of a full season for county and country.
However, a winter with England, gym work, nets and a trip to the United Arab Emirates with his Durham colleagues has honed his fitness for a gruelling six months ahead.
"All the fitness and gym work has been done, and with England you're training with the best, you've got the best coaches and the best facilities," added Onions.
"I feel really good, I feel strong, pretty fit and maybe I'm a bit ahead of the rest of the lads because I've been away.
"It's always nice to have your name bandied about, if it is in the press or being picked for a Test tour. If you're on a Test tour and don't play it's still nice to be involved.
"It's nice for me to know if I do the right things then I can get back in the England side. But I can only do that if I have a good first month of the season."
The emergence of Ben Stokes and Scott Borthwick last season has also raised expectations for further Durham representation in the England set-up, after the pair impressed with the one-day side.
South African all-rounder Dale Benkenstein proclaimed Stokes ready for Test action midway through the last season, and Onions is similarly confident of their calibre.
He said: "They can go all the way, they can go on to play Test match cricket, they're certainly good enough.
"Sometimes when you have a good first year, or good two years, it always gets a bit harder.
"People watch you on CricStat, to see how you play and whether you bowl a googly so it's important they find out the right processes to get to their ultimate goal.
"They're fantastic cricketers and it's just a case of training and trying to stay as positive as they can, in tough times as well."
Durham were unfortunate to end 2011 without silverware to show for their efforts.
Weather and a handful of defeats toward the end of the campaign saw their title bid slip away. In the 40-over competition Durham collapsed in the semi-finals after a strong finish to the group stage.
"We've got pace, we've got swing, we've got everything, last year we were maybe guilty of searching for wickets a little bit, and trying to do too much with the ball," added Onions.
"We want to get into finals, get trophies and with the team we've got, we need to mix together to get that blend of winning again."