Durham target return to honours after two-year drought
Last updated on .From the section Cricket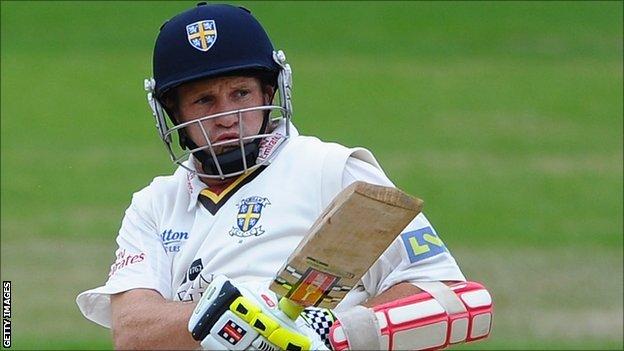 'Nearly men'. Two words that simply sum up Durham's fortunes during the 2011 County Championship season.
First-class cricket's most northerly of counties were in the hunt for the title before a handful of defeats and the north east weather saw Geoff Cook's side slump to third place in the final weeks.
Likewise, a semi-final defeat by Somerset ended hopes of a trip to Lord's in the CB40 competition, and the Twenty20 hoodoo continued with the Dynamos' quarter-final exit by Hampshire.
For a county that claimed two titles and a 50-overs trophy within the space of three years, the relative drought of 2010 and 2011 remains a concern, and has brought about an analysis into the squad's mental preparation.
The players went on team-building exercises with the police and fire brigade over the winter, testing their capabilities under pressure in an unusual environment.
"Getting into positions where we could have won three competitions and not winning [one] was a bit disappointing," Dale Benkenstein told BBC Newcastle.
"Hopefully there are a few lessons that we've learnt as a team - and individually - in situations that are far more pressurised than what we get into.
"You try to improve. Technically, our team is as good as anyone elses, and just being in a different environment - seeing people cope calmly in big pressure situations - gave us confidence that what we have to go through is not that bad."
At 37, Benkenstein has seen his fair share of pre-season campaigns, notably at Durham where he is now in his eighth season.
"International cricket has gone out of the window a while ago and to have come to Durham and seen the progress of the team and the club has almost become part of my life," he added.
"I haven't achieved anything at international level, and there are a few things I want to achieve personally in my own career and this is the avenue to do it.
"I still feel I'm contributing and not just keeping someone out of the team and that is very important. When I get to the stage I'm hanging on I don't want to play anymore."
At the other end of the scale, 21-year-old Scott Borthwick emerged as an England hopeful last season, leg-spinning his way into the one-day set-up with 35 first-class wickets.
He spent his winter at various training camps with the national side, and worked with former Sussex wicket-taker Mushtaq Ahmed.
"It's been a really good experience, I enjoyed the whole six months," he says.
"I was in India, Dubai, Bangladesh, Sri Lanka, and I've learned a lot. It's been one-day cricket based with England and England Lions.
"The things you learn and go through, playing against good players, with good players and in the dressing room with world class players.
"I did a lot of bowling with Mushtaq and it's fantastic, his knowledge of leg-spin is amazing."
Although Borthwick made his first-class debut for Durham during the 2009 title-winning season, it has been in the last season-and-a-half that the Sunderland-born spinner has become a regular in Geoff Cook's side.
And as part of a bowling group that includes Graham Onions, Liam Plunkett, Steve Harmison and Callum Thorp, plus batting quality such as Michael Di Venuto and Paul Collingwood, Borthwick has high hopes for 2012.
"The squad we've got is awesome, but going back to last year we should have won it," he added.
"We were top of the league until two or three games to go, and then we lost a couple of games.
"We just need to keep going, we've got a full strength squad, we've definitely got the ability and the talent to win the title.
"We have to go in with full confidence."