Mohammad Amir: How cheating at Lord's ruined my life and career
Last updated on .From the section Cricket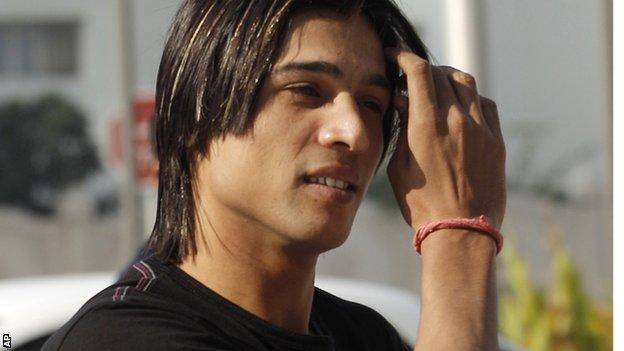 Shamed Pakistan bowler Mohammad Amir has told how his life was "ruined" after bowling two no balls against England at Lord's in August 2010.
Amir was jailed for six months and banned from cricket for five years for his part in a spot-fixing betting scam.
"I didn't want to intentionally. I always knew it was wrong and this was cheating but I was under pressure," he said in an anti-corruption video.
But he admitted lying to the sport's governing body in January 2011.
Amir, who turns 20 next week, was released in February having served half of his six-month sentence but former captain Salman Butt, bowler Mohammad Asif and agent Mazhar Majeed remain in prison.
In a drive by the International Cricket Council's anti-corruption and security unit to stamp out corruption in the game, Amir spoke about that day at Lord's and how he lacked the courage to tell the truth to the ICC.
He said: "In the Lord's Test everybody knows I did something very bad. These things ruined my career.
"I took six wickets but I did two no balls. After a couple of hours my life is changed, my life is ruined because of two no balls.
"I did two no balls because I was under pressure. Some of the senior players put me under pressure."
Amir explained how he came from a small village and a poor family and how playing cricket for Pakistan was his dream.
He added: "I accept my mistake. One day I was on the top and the next day I was somebody everybody was calling cheater and fixer and I don't have words to explain that.
"When I was in the ICC hearing I was totally embarrassed because I knew I am lying. I wanted to tell the truth but I didn't have the courage.
"After the ban I faced a criminal trial and when I came to London I decided I was going to speak the truth."
Amir's suspension means he will not be able to play cricket until September 2015 and he has warned about the consequences of cheating.
"Prison is a bad place for everyone, not just me," he said. "Don't make the mistake I did. I was stupid.
"I didn't tell anyone because I didn't have the courage.
"If somebody asked you [to do] that kind of thing you go straight to the ICC team management and tell them and they can help you.
"Otherwise these things can ruin your career like me. If I had told somebody maybe I would be playing for Pakistan today."