Sri Lanka v England: Jonathan Agnew column

By Jonathan Agnew
BBC cricket correspondent in Colombo
Last updated on .From the section Cricket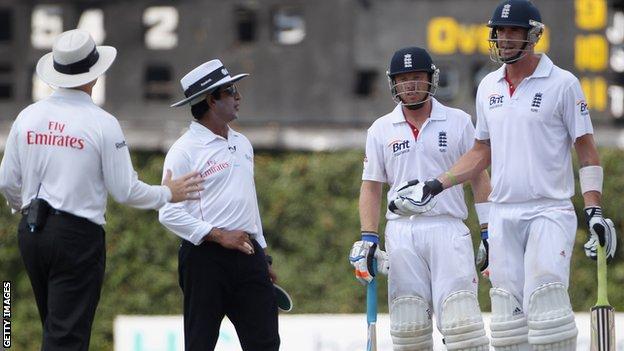 Kevin Pietersen's innings on day three was phenomenal.
He scored 151, proving what a remarkable player he is when things go right for him. It was a brilliant innings that only he is really capable of playing.
To score at almost a run a ball on a sluggish pitch, and in such oppressive conditions, shows what a gifted player he is.
He was given a good platform by Andrew Strauss, Alastair Cook and Jonathan Trott before him, but he dismembered the Sri Lanka bowling attack.
He bullied Suraj Randiv and the Sri Lankans were intimidated by him.
We went into the day thinking it would be a slow, attritional day of Test cricket, but the way Kevin Pietersen played between lunch and tea, when he scored 88 in the session, really gave England the momentum.
He played some big shots, and some unusual shots.
However, the umpires were right to warn him for time-wasting after he attempted a switch-hit.
It is up to the bowler to decide when he releases the ball, and I can understand why Tillakaratne Dilshan would not release the ball as KP was shaping up for another switch-hit.
If you set your field for a right-hander, and he changes to become a left-hander, you can understand why bowlers would not let the ball go.
The important thing to consider is when the shot is used in a defensive situation.
You might have a team trying to save the game, sending in a right-hander who takes guard on his weaker side and switches to his strong side with the fielders in the wrong place, also knowing he cannot be given out lbw.
The logical answer to the argument is to tell batsmen they have to wait until the point of delivery before they switch.
But back to the game, and England are strong favourites to win now.
A 181-run lead is a lot, but Sri Lanka will fight hard. They have not had the best run with the bat themselves, and James Anderson is always dangerous with the new ball, but they will know if they can somehow dig in and get 280-300 that small targets can prove tricky for England.
It's going to be an intriguing final two days.