How Jimmy Anderson became one of England's best bowlers
By Marc Higginson
BBC Sport
Last updated on .From the section Cricket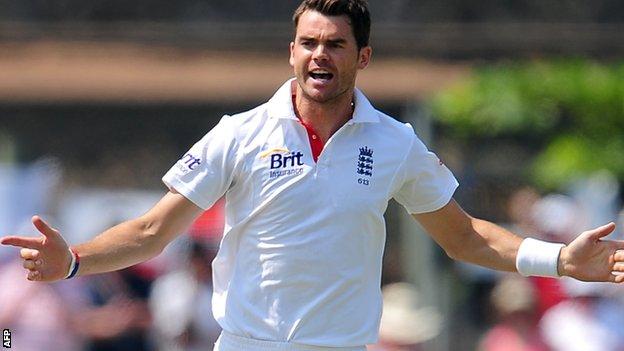 When England summoned a 20-year-old unknown from Lancashire with just three county appearances to his name, to cover their injury-hit one-day squad in Australia in 2002, little did they know they had unearthed a player destined for the very top.
Outside of Burnley Cricket Club, very few knew about the potential of James Anderson.
Luckily, for England, some astute cricketing brains had already marked out this particular fast bowler as one for the future.
And, almost 10 years later, after breaking into the top five England wicket-takers in Test history during the drawn series against Sri Lanka, it is fair to say they got their assessment spot on.
One of those who identified the talent of Anderson is Lancashire director of cricket Mike Watkinson.
"When I first saw him, Jimmy was a raw, young, quick bowler," said Watkinson. "He had not got a lot of match experience, his action was not the tidiest but he had a whip about his game.
"We knew he had a knack of taking wickets. He was quite a shy individual, he still is, but he was somebody who we did some work with and we saw instant results.
"He buys into everything you suggest because he is a focused cricketer. He is a great tactician, which all the leading bowlers tend to be."
After breaking into the England set-up with a hatful of wickets in the tri-series with Australia and Sri Lanka in 2002, he announced himself on the international stage with a stunning burst of 4-29 against Pakistan in the 2003 World Cup.
A Test debut against Zimbabwe followed, where he took five wickets in an encouraging first-innings bowling display.
Another five-wicket haul against South Africa later that summer looked to have cemented Anderson's place in the team.
However, the Burnley Express, as he was nicknamed, saw his breathtaking progress derailed by inconsistency and injuries.
He had dropped down the pecking order by the time he missed most of the 2006 season with a stress fracture - and he was rushed back into the international fold too soon on the following winter's disastrous Ashes tour.
Anderson still had time on his side, however, and his star began to rise once again when he took 14 wickets in three matches against the touring Indians in 2007.
Maturity off the pitch, and a new-found understanding of his abilities off it, meant the swing bowler became a man for all conditions.
Being named one of the five Wisden Cricketers of the Year in 2009 underlined his new-found status.
When fellow Lancastrian Andrew Flintoff retired, England needed a new leader of their bowling attack - and Anderson stepped up to the plate.
Any suggestions he did not produce in unfavourable conditions were dispelled once and for all in the 2010-11 Ashes when he took 24 wickets as England hammered Australia 3-1.
And his performances against Pakistan and Sri Lanka this winter only serve to underline the giant strides he has made in his game.
Former England captain Michael Vaughan has already predicted Anderson, 29, will surpass Sir Ian Botham's record to become England's leading Test wicket-taker, and Watkinson believes Anderson has all the attributes to lead his country to further glories.
"He has an action which is not 100% textbook, but that makes him slightly unpredictable and difficult for the opposition to read," said Watkinson.
"He has the skill, which he has more recently acquired, of being able to swing the ball both ways with complete disguise, and his outswinger pushes in to swing out.
"He has great plans for everybody he bowls against, and that is a credit to him for taking on all the information given to him by the coaching staff. He sticks to his plans and that is important if you want to make sure you don't leak runs while getting top international players out.
"Put all these things together and you have a very dangerous bowler."
And, after labelling Anderson a 'tactician', does Watkinson believe the player is a future England captain?
"Possibly," he said. "However, it is not easy when you are an opening bowler to captain a team, because very often you are running on an empty tank.
"All the rewards he deserves will come to him, and if captaincy is one of those things I am sure he will be a very proud man."