Andrew Strauss: England have learnt lessons in Sri Lanka
Last updated on .From the section Cricket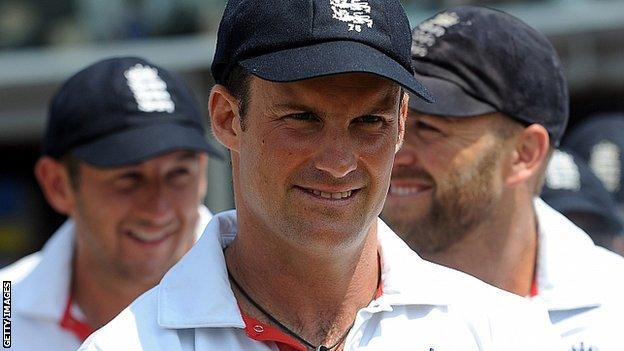 Captain Andrew Strauss said England's Test win over Sri Lanka showed they had learnt "valuable lessons" to take into their India tour later this year.
England ended a run of four straight defeats with an eight-wicket victory to tie the series 1-1 with Sri Lanka.
"We're still disappointed with the winter but we've learnt some valuable lessons," Strauss told BBC Sport.
"I think the work we've done will stand us in good stead, most importantly for India at the end of the year."
England's victory in the second Test in Colombo ensured they hold on to number one status in the Test rankings.
It was set up by an impressive first-innings batting display in which the top three of Strauss, Alastair Cook and Jonathan Trott all made fifties before Kevin Pietersen weighed in with a sparkling 151 to lift the total to 460.
Prior to that England had only once posted a total of more than 300 in eight innings against Pakistan and Sri Lanka.
"I think we've shown that we have learnt a lot," said Strauss. "Off the pitch we've seen that for quite a while now but it's putting it on the pitch which is the hard thing.
"Everyone has to play it their own way. There are a lot of styles but you have to commit to the best style for you and we saw that a lot more as this Test went on.
"We never get caught up in the hype. What the media is talking about is irrelevant to us - we concentrate on getting it right on the pitch and we did that pretty well this game."
After losing 3-0 to Pakistan in Dubai and Abu Dhabi, England were bowled out for 193 on their way to a demoralising defeat by Sri Lanka in the first Test in Galle.
Pietersen, who had only scored 100 runs in eight innings before his Colombo century, believes England have belatedly adapted to subcontinental conditions and offered his backing to captain Strauss.
"We've made progress - we let ourselves down in the first innings in Galle but we've made strides and we'll go OK in India at the end of the year," he told BBC Test Match Special.
"Nobody can replace Andrew Strauss because there's no-one else who could do the job he's doing. He's a great captain and you boys need to get off his back."
England's next challenge is a three-Test home series against West Indies, before a potential showdown for the world number one ranking with South Africa over three Tests in July and August.
They will then head to India for a four-Test series in November and December.
Coach Andy Flower believes the team are missing one crucial ingredient to become a force in the subcontinent.
"I think the ideal balance is always to have a world-class quality all-rounder at six or seven," Flower told Sky Sports.
"Samit Patel did a really good job in these two Tests but there will always be people pushing for that spot.
"We haven't had someone of [Andrew] Flintoff's quality yet, although Tim Bresnan is growing as a cricketer.
"India will be a great test for us and it will be a real challenge for us out there."