Stephen Moore column

By Stephen Moore
Lancashire and England Lions batsman
Last updated on .From the section Cricket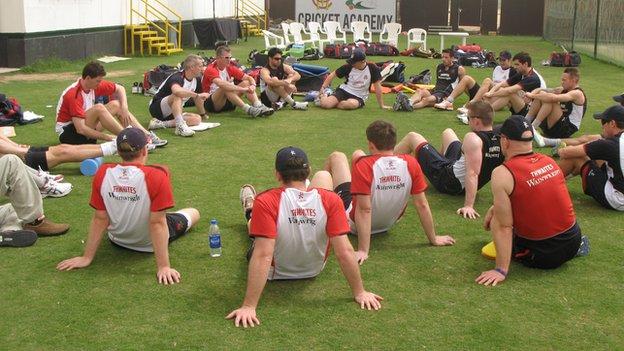 For a county cricketer pre-season is where it all begins.
During months of winter training, representative tours, and personal development there is always the promise of time away with your team to train, play matches and socialize.
This year was extra special for us, as the current county champions we were invited to Abu Dhabi to play the MCC in the traditional county curtain raiser.
Staying at the exclusive Yas Island Resort is truly a world away from Bolton, Preston or Salford. It is an extra-ordinary experience having a drink under the kaleidoscopic roof or eating breakfast with McLaren race cars tearing past your table on the adjacent F1 race track.
Luxuries aside, this tour gave us an opportunity to try and gauge where we were after a long winter.
We are determined as a side to move on from last season, take our experiences and become a better side. The benefit of our trip to the Emirates was that we were able to play both T20 and four-day cricket against tough opposition.
After a nice warm-up against the MMC young cricketers, we headed up the coast to Dubai for the Emirates T20 Tournament.
After sampling the same stretch of road several times, our now apoplectic driver shouting Arabic expletives finally managed to locate the 7s sports facilities at precisely the time we were supposed to be tossing the coin.
Losing in the final was disappointing, but having played three matches in quick succession everyone in the squad had had a good chance to get some one-day cricket into their legs.
We made the similarly wayward journey back to the Yas Hotel in high spirits confident that our skills, and more importantly, our squad were maturing.
Our day off on the whole was spent nursing heavy heads in various ways. Some decided a water park would help, while others thought some death defying roller coaster action at Ferrari World was the recipe, but for a new father like myself, any opportunity for sleeping by the pool must be taken with both hands outstretched.
After this it would be two days of training and preparation for our four-day match against the MCC.
After witnessing the Test matches in the winter we had a good idea of how the wicket was going to play, and having played in this fixture last year, I felt both privileged and excited to be back.
Playing with a pink ball is a unique experience, and day/night four-day cricket provides some very interesting challenges.
During the night session the game tends to accelerate as the cooling air and moisture causes the wicket to liven up a little.
It was a very tight game of cricket with good performances on both sides, but we were very pleased to turn the match in our favour, and reconnect with our brand of cricket from the 2011 season.
All in all it was a successful tour for our squad, and helped us start 2012 as we mean to continue.
One thing that this tour reminded me of about our team is how much we enjoy doing what we do.
There are no guarantees this season that we will be as successful as last, but if we continue to mature as a side, embrace the inevitable challenges that other teams lay in front of us, and enjoy each others' company while playing our brand of cricket, we will have some wonderful memories to take into next year.
You can follow Stephen Moore on Twitter at: http://twitter.com/stephen_moore6 (external site)