Pietersen defends decision to play in Indian Premier League
Last updated on .From the section Cricket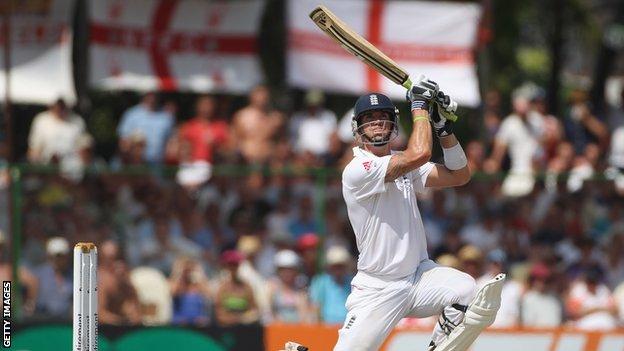 Kevin Pietersen has defended his decision to play in the Indian Premier League, arguing that it will help him deal better with the unique conditions in the sub-continent.
While his England team-mates enjoy a break after Sri Lanka, Pietersen has a contract with the Delhi Daredevils.
He said: "I can just spend hours in the nets - I see it as an opportunity to just improve my playing of spin bowling and improving my technique."
England tour India later this year.
Pietersen, 31, will likely be back on Test duty for England against the West Indies in May.
He has already been on two tours with his country this year - to the United Arab Emirates where England played Pakistan, as well as Sri Lanka.
But rather than being concerned about the toll the busy calendar can have, Pietersen - who clubbed a superb 151 and 42 not out in England's eight-wicket win over Sri Lanka in the second Test - sees it as a chance to stay in form and enhance his technique.
"The great thing about the IPL is we go there and today, tomorrow afternoon, Tuesday... I can just spend hours in the nets," he said.
"I think it's a massive bonus, I'm very lucky."