Alec Stewart: Kevin Pietersen can benefit from playing in IPL

By Alec Stewart
Former England captain and BBC Radio 5 live summariser
Last updated on .From the section Cricket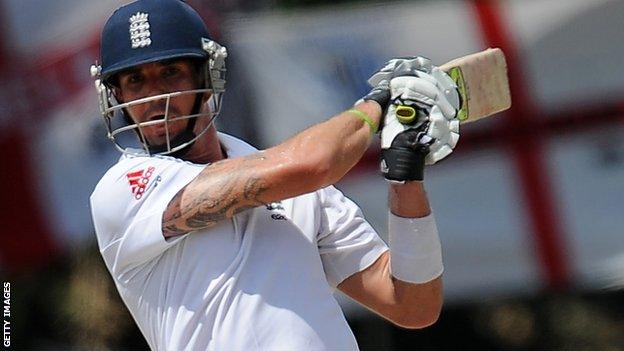 Kevin Pietersen's unbelievable knock of 151 helped to set up England's victory in the second Test against Sri Lanka - and now he will take his considerable talents to the Indian Premier League.
I have no problem with him going out to play for the Delhi Daredevils - it is the way the world of cricket is these days. I will not knock anyone who makes that professional decision.
He has gone there on the back of a brilliant innings for his country and, if it does help him, I will not question it because Kevin is one of the best prepared players I have seen in the game.
If he can bring back some knowledge that will help the England squad, it is a wise move.
He certainly played a key role in helping England square the series in Sri Lanka, thus remaining the number one Test side in the world.
Alastair Cook played very well too, proving the batsmen have learnt some lessons and are dealing with sub-Continental conditions better.
If you look at it from a series point of view, Trott scored a fantastic hundred in the first Test, Pietersen and Cook did the business in the second Test, Bell got a 50 and Strauss a 60.
What the batsmen need to do now is build on it so, when they go to India at the back end of the year, we don't see the same issues the team faced this winter.
I thought Samit Patel did an okay job in his two Test matches, and I did see Andy Flower's comments about finding an all-rounder for the team next winter.
Samit is not going to be a frontline spinner at this stage of his career - Graeme Swann showed all his world-class qualities in the last Test match, as did Monty Panesar in the UAE - and an all-rounder has to get into the side because of both of his skills.
Samit is a back-up spinner and, as a batsman, which is his strongest suit, he will be a far better player for his two-match experience in Sri Lanka.
Every country would like an all-rounder like South Africa's Jacques Kallis, but he is probably the best all-rounder since Sir Garfield Sobers.
England have not managed to replace Andrew Flintoff, like we did not replace Botham before him.
We could turn our wicketkeeper into the team's all-rounder, like they did with me. Matt Prior is certainly good enough to bat at number six and, with his keeping skills, he is a genuine all-rounder.
If you do that, however, you also need a bowler who is useful with the bat.
Nobody stands out at the moment, but that is not to say Tim Bresnan cannot develop into a genuine number seven Test cricketer. He is probably a number eight at the moment.
It's the same with Stuart Broad, too. It's just whether they have the time to develop their batting when they play so little county cricket.
The international itinerary makes that a problem, but we do want more than one player coming through, to push this current group of players.
Regardless of results this winter, England will have gone into the summer matches against West Indies and South Africa confident.
England at home are a completely different team to England on the sub-Continent, from a bowling and batting point of view.
They will be expected to beat West Indies and, maybe, they are narrow favourites against South Africa at this moment in time.