Shakib reclaims all-rounder top spot
Last updated on .From the section Cricket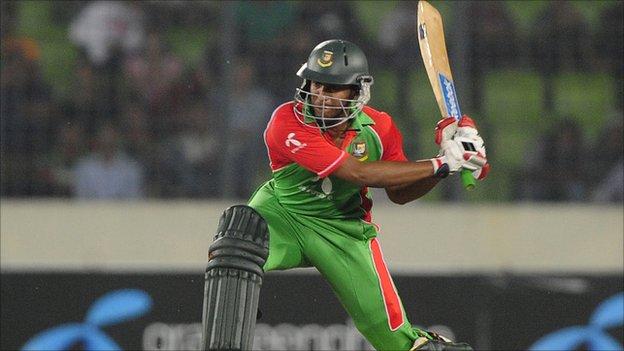 Former Bangladesh captain Shakib Al Hasan hopes he can inspire a new generation of cricketers after regaining the number one all-rounder spot in the latest ICC one-day international rankings.
The left-arm spinner and middle-order batsman has become a key figure for his country in one-day internationals.
Recently he helped Bangladesh reach the Asia Cup final and scored 64 with the bat in a two-run defeat to Pakistan.
Shakib, 25, scored 237 runs and took six wickets and was named player of the series as Bangladesh beat India and Sri Lanka in that tournament.
He received 27 rating points for his all-round performance, which helped to knock Australia's Shane Watson, who had leapfrogged him in March, off the top spot.
On regaining his position he said, "I am really excited by this achievement. It would not have been possible without the support of my team-mates, coaching staff, and a lot of hard work in practice.
"My aim is to always help my team first and, if any personal achievements follow, it can only help my confidence grow so that I can help my country."
The ex-Bangladesh skipper, who is currently playing for Kolkata Knight Riders in the Indian Premier League, and has played for Worcestershire, believes more of his countrymen should be given the chance to play county cricket in England.
He added: "I hope my performances both domestically and internationally can convince others to try to gain experiences playing abroad.
"Playing in the IPL and in English county cricket has helped me to become a better all-rounder.
"They would learn so many things that have been lacking in our cricket. You have to face different sorts of conditions, different sorts of wickets, so you get a chance to learn from every game.
"We still need more facilities but I hope that by regaining the top spot it can help to inspire a new generation of cricketers in Bangladesh.
"I think Bangladesh cricket is moving forward in the right direction and hopefully, in the next couple of years, we will begin to realise our full potential."