Glamorgan batsmen need confidence boost, says coach Mott
Last updated on .From the section Cricket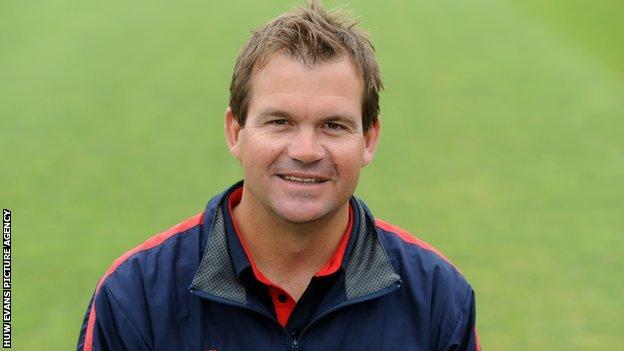 Head coach Matthew Mott admits that after two opening County Championship defeats, some Glamorgan batsmen are suffering from a lack of confidence.
Mott said their efforts "went pear-shaped" in the second innings of their Division Two encounter.
"There are some batters... who are genuinely low on confidence," said Australian Mott.
"That's the big job over the next few days is to try and pick that confidence up."
Gareth Rees top-scored with 41 against Derbyshire while Mark Wallace (47) and Graeme Wagg (42) were the leading lights against Leicestershire.
But four Glamorgan batsmen went for a duck against Derbyshire on the last day with only Stewart Walters (30) giving Rees notable support.
Mott hopes for an improvement for their next game against Hampshire that starts at the Swalec Stadium on Thursday.
He said: "We spoke about the guys going away for a day or two and we'll have a good solid meeting on Tuesday, see if we can turn things around because already after four innings we haven't really set the world on fire with the bat.
"I've said to the guys it would be a lot easier if I thought we'd taken shortcuts and we hadn't trained well and the guys weren't doing the [right] things.
"But in the mornings guys are fronting up early for hits and they're trying their guts out, but that's professional cricket at times.
"Sometimes it doesn't go your way.
"I can't imagine too many worse hours than that. At 0-59 I thought we had the initiative in the game.
"We couldn't have started any more positively than we did.
"I thought Gareth Rees was looking incredibly good and Stewrt Walters was doing a great job as well, but it went pear-shaped from there.
"We lost that first wicket and the rest was like a blur."
Mott was unwilling to blame early-season wicket conditions for Glamorgan's plight.
He said: "Not many batters are really cashing in, although it's no excuse for being bowled out for 90-odd and 100 because the wicket wasn't that bad.
"Up around 200 [against Derbyshire] would have been a lot more realistic score."