Ben Hollioake kit theft hurt parents, says brother Adam
By Sam Sheringham
BBC Sport
Last updated on .From the section Cricket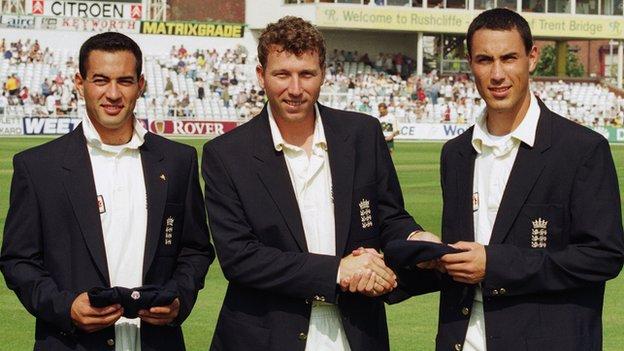 Adam Hollioake has said the theft of his late brother Ben's England cricket kit left his parents distraught.
Equipment, including England shirts, was stolen from their home in Perth, Australia, less than a month after the 10th anniversary of Ben's death.
"It meant a lot to my mum, so seeing her sad was probably the worst thing," Hollioake told BBC Sport.
"Ben has been on our minds a lot recently. Obviously it dug up some nasty skeletons."
Ben Hollioake, who played two Tests and 20 one-day internationals for England, was tragically killed at the age of 24 on 23 March 2002 when driving home from a family dinner.
Adam, who played alongside his brother for Surrey and England, revealed on Twitter that the thieves had made off with a host of cricketing mementos, including England one-day shirts, Test and one-day sweaters and helmets, bats, gloves, boots, blazers and training gear.
"My parents live in an apartment and they have got a a lock-up room downstairs. When they woke up this morning someone had broken in and taken all of Ben's cricket kit," he explained.
"My initial reaction was that I was more worried for my mum because she was pretty upset.
"I'm not really one for material things, I've lost most of my medals from when I was playing. I am pretty slack with that kind of thing and I know Ben was as well but I just think it meant a lot to my mum so seeing her sad was probably the worst thing."
News of the robbery prompted a massive Twitter response from the cricketing community with England cricketers Kevin Pietersen,Stuart Broad and James Anderson and Australia legend Shane Warne among those calling for the equipment to be returned.
"It's unbelievable. What it does do is show there is a large number of very, very good people in the world," added Hollioake.
"We tend in the media at times to focus on negative things because they are more newsworthy.
"When you've got something like social media, you can mobilise an army of good people to get a message across."
Later on Wednesday, Hollioake revealed that Western Australia Police had recovered some of the kit, while some was returned to his parents' house.
"They went round to a guy's house because he is a commonly known thief and the first thing they saw was my brother's cricket coffin [kit bag]," he said.
"I'm not worried about that guy, we just want to get all the kit back."
And he has since revealed on Twitter than an arrest has been made: "A person has been arrested and a search warrant issued to potentially retrieve remaining kit. Grateful to the robbers... at least when they realised sentimental value they made an effort to return stuff."
After his brother's sudden death, Adam took a break from the game before returning to lead Surrey to a third County Championship in four years.
After retirement, he worked tirelessly for charity, raising money for the Ben Hollioake Memorial Fund.
Now living with his wife and three children in Australia, Adam revealed that he has only recently come to terms with Ben's death.
"I know to everybody else he is Ben Hollioake the cricketer, but to me he will always be Ben Hollioake my little brother," he added.
"We used to get up to mischief as a kid. It's probably only in the last year or so that I have learned to live with the pain."