Vernon Philander, the 'new Glenn McGrath', sets sights on England
By Stephan Shemilt
BBC Sport
Last updated on .From the section Cricket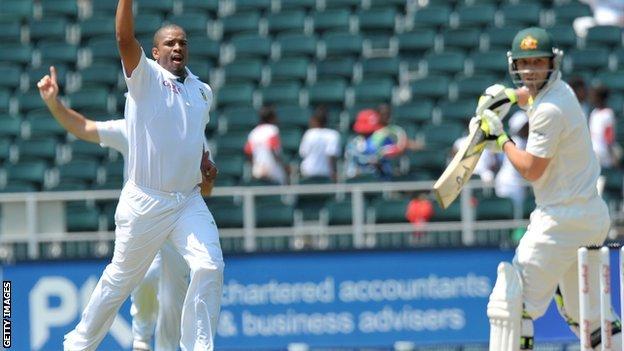 If the impressive statistics of South Africa paceman Vernon Philander are not enough to give England's batsmen sleepless nights, his nickname will at least give them pause for thought.
The relentless accuracy of the second-fastest man to 50 Test wickets has led him to be christened "Verne McGrath" after arguably the greatest Australia fast bowler of all time and scourge of all things English, Glenn McGrath.
"He's a good man to be named after," Philander told BBC Sport. "I base my game on McGrath and Shaun Pollock - that's where the control, the line and length comes from.
"I know what I want to be doing with the ball, and it's worked for me. I put my success down to keeping the ball in the right areas and the control that I have."
Since making his Test debut against Australia in November last year, the 26-year-old has picked up 51 Test wickets at an average of 14.15, taken at a strike-rate of one victim every 26.7 deliveries.
In seven matches, the right-armer has claimed two 10-wicket hauls. As a comparison, England's fifth-highest wicket-taker of all time, James Anderson, has one in 68 games.
South Africa play three Tests in England this summer and Philander's addition to a seam attack that already included Dale Steyn and Morne Morkel - plus back-up from Jacques Kallis and his 276 Test wickets - has added another dimension to the series between the top two sides in the International Cricket Council's rankings.
"Dale Steyn is the number one bowler in the world, so a lot of emphasis is placed on him," continued Philander. "That's something I really like because it means some batsmen might relax when they face me.
"Added to that, you've got Morne Morkel and Jacques Kallis - guys who have been in the side for a long time - so it's a good attack to be a part of.
"We want to be number one in the world. We haven't really spoken about it, but what better way of going to number one than beating England in England?"
Philander, who had a spell in club cricket as an 18-year-old and was part of the Devon side that knocked Leicestershire out of the 2004 C&G Trophy, has returned to England as Somerset's overseas player for the first part of the summer.
"I'd like to get used to the conditions and get Somerset off to a good start," said Philander, who is also a more than useful lower-order batsman, with a first-class average of 26.12.
"I want to get used to bowling with the Duke ball and use that to my advantage against England later on in the year.
"The Duke ball swings a bit more so I like to think I can get a few wickets when I come back and play for South Africa later in the summer.
"I see myself doing well again [against England]. I'm looking forward to the series, even though my focus is on Somerset at the moment."
While the vagaries of the fixture list mean Philander is unlikely to come up against any of England's probable top six while on County Championship duty, his presence for Somerset should provide some clues as to how he can be combated in the Tests at The Oval, Headingley and Lord's.
Ireland captain Will Porterfield, who made 84 in the second innings of Warwickshire's two-wicket win over Somerset, said: "He doesn't give you many bad balls and, when he does, you have to capitalise. He nips it around in both directions and doesn't miss his length much.
"It was a matter of hanging in there, and putting him under pressure by either batting out of or moving around in the crease.
"However, putting him under pressure is hard because he's had a lot of success in the past six months and he knows exactly what he's trying to do.
"I'm not going to start giving England's batsmen advice. They have come up against a lot of class acts like Philander so they will have their plans and they will know what they want to do."
England never quite got to grips with the old McGrath, and needed the help of a stray cricket ball on the Edgbaston outfield to tame him during the 2005 Ashes.
If the prolific form of the new McGrath continues this summer, England might find themselves hoping a similar accident takes care of Philander.