Dale Benkenstein signs new three-year Durham deal
Last updated on .From the section Cricket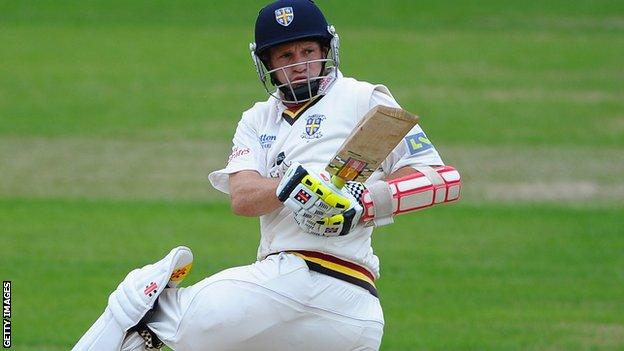 Dale Benkenstein has signed a new three-year contract at Durham that will see him play past his 40th birthday.
Benkenstein, 37, has proved a reliable member of the squad, helping Durham to the 2007 Friends Provident Trophy, their first major honour.
"Every year gives me new obstacles and challenges and I feel fine at the moment," he told Durham's official website.
"The club has pretty much given me a contract until I'm 40."
He added: "The club have been brilliant with me and they have given me another three years (including this season) as a player and the way I feel at the moment I believe I can contribute to the team in every single one of them."
After lifting two consecutive County Championships in 2008 and 2009, Benkenstein is keen to build on last season's third-placed finish, but says he will know if time gets the better of him.
"Obviously last year was a good year and I felt good. It's great to know that I have that security but I will be honest with myself depending on how I'm doing really," he said.
"I think the club is in really good shape, it's been a tough one for them because the older players are still contributing pretty well and to keep everyone going helps to bring through the younger guys. I do think you need to keep the balance; it's pretty important and sustains you over a long period."
He also spoke proudly of becoming Durham's record run maker, with more than 8,000 first-class runs.
"On a personal level, while there are bigger achievements in cricket, to become Durham's leading run scorer was a very proud moment," he said.
"I've enjoyed a lot of success as part of a team, but it's nice to have something to show for that as an individual as well. Hopefully I'll be able to put a few more runs on to that record over the next few years as well. That's obviously the intention."
David Harker, chief executive at Durham, praised Benkenstein's ongoing influence.
"Dale is a fantastic asset to our club, on and off the field," he said. "He is passionate about Durham and we're delighted that he has committed until the end of 2014.
"He is respected and admired for his performances as a player but also for his role in the evolution and success of our squad."