Worcestershire on flood alert as rivers rise at New Road
Last updated on .From the section Cricket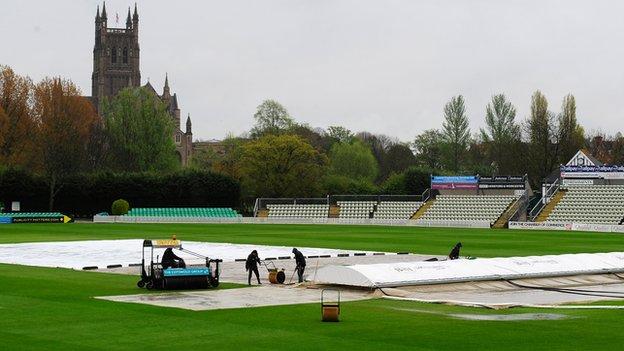 Worcestershire are on flood warning at New Road again due to the rising river levels of the nearby Severn and Teme.
New Road was last under water late on in 2008, having lost half of the 2007 season when they suffered the second worst flood in the county's history.
And chief executive David Leatherdale admits this could be a very close call.
"The level of the Severn is about 3.6 metres above the norm and that is borderline for us as a club," he told BBC Hereford & Worcester.
"We are guesstimating where we might be. If it reaches 4 metres above the normal level it's touch and go. We could be in trouble."
Fortunately, after Sunday's wash-out of the final day of their game against Nottinghamshire, Worcestershire are not at home this week.
They return to action on Thursday when they head off to face Middlesex at Lord's.
And they are not due at New Road again until the CB40 game against the Netherlands next Monday, two days before they host Surrey in the Championship.
"We have the use of Kidderminster as a second ground," said Leatherdale. "The agreement is they are available at very short notice.
"Ironically we have a second team game there tomorrow [Tuesday], and as far as cricket goes that is not a problem."
Although the River Severn runs right past New Road, the flooding problem is actually caused about a mile downstream where it meets its tributary, the Teme, from where excess water is sent back over the flood plain beyond the Diglis End of the ground and back up through the drains.
But the Worcestershire groundstaff are keeping a careful eye on rising waters in the Severn as they know that means potential trouble is not far away.
"On Sunday it was touching the banks," said Leatherdale. "And now it's three quarters up the fence on the river side.
"As long as it does not get on the square, that is the key point. It needs protecting but it is a fine line between reaching the car park and the edge of the square.
"We have made some contingency plans, we have cleared out some of our low-lying areas and have gone on our normal alert for this sort of situation."