Alviro Petersen hopes for Glamorgan exit truth
Last updated on .From the section Cricket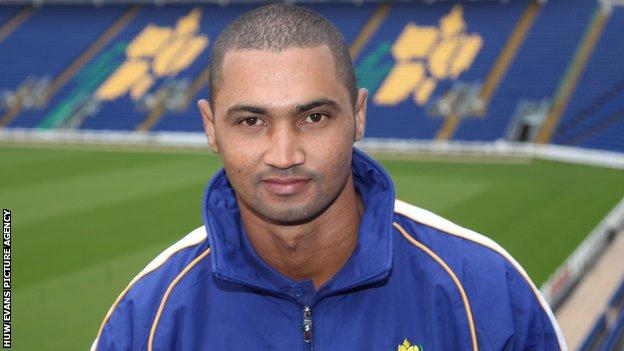 Former captain Alviro Petersen hopes that Glamorgan fans will one day be told the story behind his controversial 2011 departure from the Welsh county.
The former Glamorgan skipper joined Essex and has kept his own counsel about his acrimonious exit from the Swalec Stadium.
"Hopefully, one day everyone will know what really went on," said Petersen.
The South African struck a superb 145 on his return to Cardiff on the first day of the County Championship clash.
Petersen was expected to return to the Welsh county this summer, but he signed for Essex after a bitter and drawn out dispute with Glamorgan.
Petersen had approached the county last season to return to Wales for a second season this summer as a Kolpak player, which would have meant quitting international cricket.
But Petersen changed his mind after establishing himself in the Proteas Test line-up and being offered a new South Africa contract.
The South African has now signed a two-month deal with Essex ahead of South Africa's Test series in England.
"There was a lot of stuff that went on, but from my side it has been pretty silent," said Petersen.
"Obviously, we have come to an agreement and the club don't want me to talk about it."
Petersen admitted he knew his return to face his former county Glamorgan in Cardiff would make him the the centre of attention.
"When I signed with Essex, this was one of the fixtures that stood out for me, knowing I had to come back to Cardiff and play against my former team," said Petersen.
"I was looking forward to it and I knew it would be a hard challenge and I prepared myself for that and luckily I got some runs."
Petersen admitted that he was given a warm welcome when he walked out in the middle to bat and plenty of trashtalk by his former teammates during his inninngs.
"It was always going to come and I enjoy stuff like that," said Petersen.
"It somehow gets me going and it's just part of the game."
Glamorgan's Graham Wagg, who had pledged to get the former Glamorgan skipper out before the game, ended Petersen's innings on 145 with an lbw.
"He said he was going to get me out," said Petersen.
"Some of my team-mates said he had made the statement on radio, or something, and he got me out. So fair play to him."