Chris Gayle U-turn forces Somerset to consider legal action
Last updated on .From the section Cricket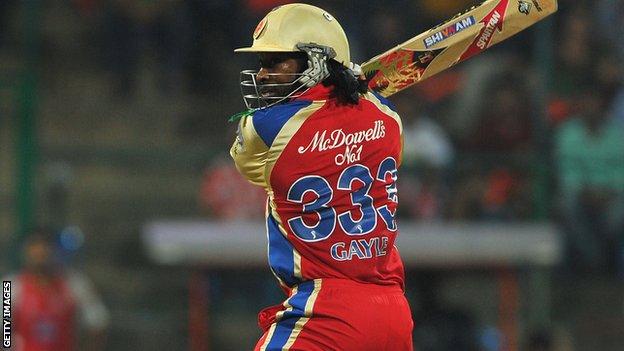 Somerset have confirmed they are considering taking action against Chris Gayle after he backed out of a deal to join them for their Twenty20 campaign.
But the Jamaican has decided to return to the international fold after resolving his differences with the West Indies Cricket Board.
Somerset have brought in South Africa's Faf du Plessis as his replacement.
Du Plessis, who previously played for Lancashire, has taken 49 wickets in Twenty20 cricket at an average of 15.89.
Commenting on Gayle's decision, chief executive Guy Lavender told the county's website: "A contract is a contract and we are exploring our options and will decide what is best for Somerset in due course.
"We are very disappointed that Chris Gayle will not be joining us for this season's FLt20, particularly as we have a signed contract and a no objection certificate from the West Indies Cricket Board."
Director of cricket Brian Rose told BBC Somerset: "It's a disappointment but not unexpected.
"Everything's a risk. You never know if international boards are going to pick players for various series, or even drop them.
"It's no shock to me and it's nothing to do with the player - he's been exceptional with his co-operation. We're happy for him to move on."
Gayle has not played international cricket for over a year after falling out with the WICB for disparaging comments he made in a radio interview.
But, following talks between the two parties, he could now be selected for the one-day section of their tour of England following his current stint in the Indian Premier League.
"I have written to Somerset and advised them I will not be honouring the commitment I made to them when I signed a contract with them," Gayle said in a statement.
"By making this decision, I understand it may place me in a position of considerable risk, since I am foregoing a signed contract, without any guarantees whatsoever, with only the hope I will be selected to play for the West Indies again.
"I have now satisfied all of the requests of the WICB and their selection panel, with whom I met via teleconference yesterday, and to whom I reiterated previous assurances given to the board regarding my availability.
"So that there is no doubt, I confirmed to the selectors that I was available for West Indies duty in all forms of cricket, immediately following the conclusion of my contractual obligations to my IPL franchise."
Gayle is arguably the most destructive limited-overs batsman in world cricket and has also played in Twenty20 competitions in Australia, Bangladesh and Zimbabwe.
However, he has also scored more than 6,300 in 91 Test appearances, including 13 centuries, one of them an innings of 333 against Sri Lanka in 2010.