Ajmal Shahzad 'unhappy at Yorkshire' - Martyn Moxon
Last updated on .From the section Cricket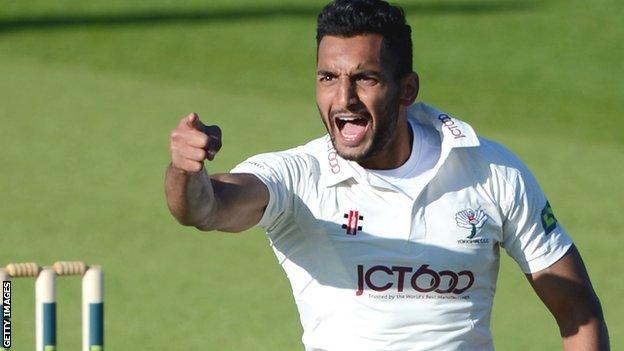 Yorkshire director of cricket Martyn Moxon says Ajmal Shahzad's impending departure has come about because the player is unhappy at Headingley.
"It's purely a matter of Ajmal's cricket. Obviously when people part ways then it's because there's a problem," Moxon told BBC Radio Leeds.
"Unfortunately he is not happy playing at Yorkshire."
Moxon continued: "There's no disparity between how we see him as a player and how England see him but it all boils down to how Ajmal sees himself as a cricketer.
"He has very strong views about how he sees himself as a cricketer both as a bowler and a batsman."
Shahzad had appeared in Yorkshire's first three County Championship matches this season but is not involved in the current match with Leicestershire.
The 26-year-old has taken 135 wickets in his 49 first class appearances, including one Test against Bangladesh in 2010, and scored 1,189 runs.
A number of counties, including Somerset, have already expressed an interest in signing him.
Moxon admitted his disappointment that Shahzad, who became the first British-born Asian to represent the county in 2004, would be moving on but insisted it was best for all parties.
"There's no point any player being where they don't want to be, that's no good for anyone," he continued.
"If you have one or two individuals who are not buying into what you want to do then you have to address it. Hence when we all sat down together we came to the decision it was best for Ajmal to go elsewhere.
"I'm very disappointed because he has got huge potential as a cricketer but it's quite clear we're not going to get the best out of him here.
"The most important thing is the team and the club, and no one individual is bigger than the club."