Adam Hollioake uncertain over cage-fighting future

By Sam Sheringham
BBC Sport
Last updated on .From the section Cricket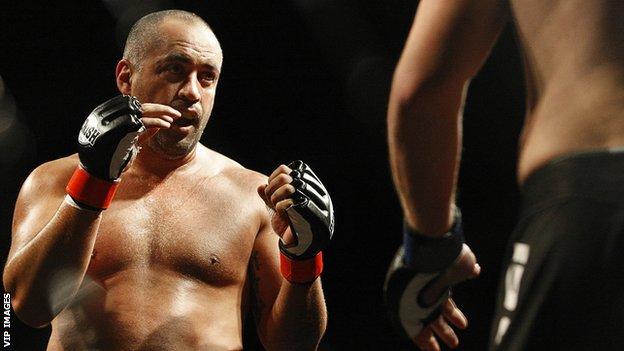 Cricketer turned cage-fighter Adam Hollioake says he is uncertain whether to pursue a career in mixed martial arts after his professional debut ended in a draw.
He says he loved every moment of his nine-minute brawl with Queensland's Joel Miller on Saturday, but the same could not be said for his wife Sherryn, who was watching from the ringside.
"I would love to do it again, but my wife was not a big fan," Hollioake told BBC Sport.
"She is a beautiful person and she wants me to follow my dreams. But I just think at the moment she wishes my dreams were something else."
Three weeks after winning his first professional fight as a boxer, Hollioake stepped out in front of 1,500 spectators in Gold Coast, Queensland, to compete in a brutal sport that mixes wrestling, martial arts and boxing.
Things started badly for Hollioake as an early mistake led to him being taken to the ground and receiving a pummelling in the first round.
But he recovered his poise, stayed on his feet and largely out-boxed his opponent over the next two rounds.
Two judges scored the fight as a draw, with one ruling in Hollioake's favour, meaning the result went down as a "majority draw".
"I was probably a bit too relaxed going into the fight," Hollioake said. "My fight didn't start until 9.30pm and 20 minutes before it started I was almost asleep.
"I was lying there yawning and my trainer was telling me to get fired up. But I'm not the kind of guy to go around punching dressing-room walls.
"I'm a pretty relaxed kind of guy at the best of times but I probably needed to jump out of the blocks a bit quicker than I did.
"It's never a good thing when you have a 90-kilo man on top of you trying to rain down punches in your face but I always felt that I had control and if I tucked my head in close to him he couldn't hurt me.
"He won the first round but I think it took a lot out of him and I was pretty much on top from the start of the second round onwards."
Hollioake says he is being inundated by calls from promoters trying to tempt him back into combat.
But, after a morning spent body-surfing the Gold Coast waves with his nine-year-old daughter, he is not about to rush into any decisions about fighting again in the future.
"At the moment I'm not even at a crossroads in my life," Hollioake, whose other children are aged five and one, added.
"I am at a roundabout with 10 exits on it. I don't know what direction I'm going to go down."