Luke Wright fears he has picked up dengue fever during IPL spell
Last updated on .From the section Cricket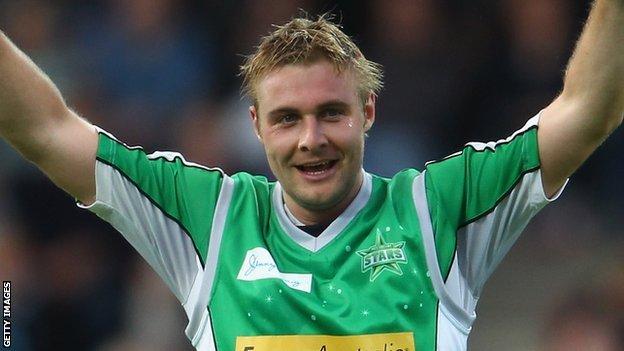 England and Sussex all-rounder Luke Wright fears he may have contracted dengue fever while playing for Pune Warriors in the Indian Premier League.
"Can't remember feeling as bad as I have the last few days. Whatever it is I hope it goes very soon," he tweeted.
Wright has had blood tests to check for the virus, the symptoms of which include fever, headache and joint pain.
The 27-year-old had expected to fly back to India for Pune's match against Rajasthan Royals on Tuesday.
He returned to England at the end of April for a family funeral.
Most people infected with dengue fever recover fully without any further problems, although treatment, which consists of taking on fluids and painkillers and plenty of rest, can last for a number of weeks.
In a small percentage of cases the virus can cause blood vessels to leak or abnormal blood clotting.
Wright has played just one match for Pune, bowling two overs at a cost of 24 runs, in the eight-wicket defeat to Delhi Daredevils on 24 April.
He won a contract with the franchise on the back of his impressive form in the southern hemisphere where he scored a century off 44 balls - the fastest ever in Australia's Big Bash - while playing for Melbourne Stars and hitting some big scores for South African side Impi.
His last international appearance came in England's Twenty20 defeat by Sri Lanka in Bristol in June 2011.