Glamorgan organise meeting to discuss poor early form
Last updated on .From the section Cricket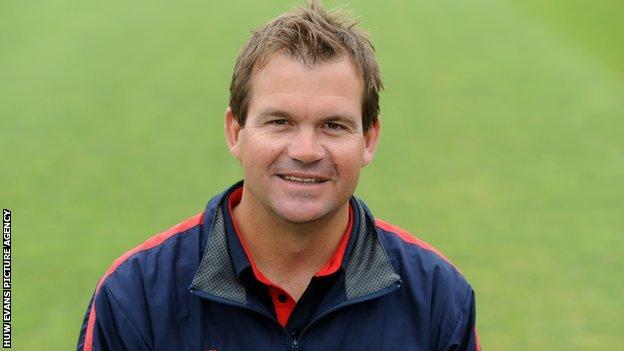 The Glamorgan squad will have a meeting on Wednesday to discuss their poor start to the 2012 season.
Australia batsman Marcus North is set to make his debut against Scotland on Sunday but bowler Graham Wagg is out for six weeks.
"We have got a meeting that was scheduled in this week," said Matthew Mott, head of elite performance.
"[It's] back to the drawing board. And I'm sure there will be a lot of ideas thrown about and hopefully we can bounce back in Scotland.
"We have talked about a no-fear attitude but we need to start displaying that. We were a bit tentative - I'd like to see us back ourselves a little bit more."
But confidence is low. Glamorgan have yet to register a batting point in their opening five Championship matches and against Hampshire in the 40-over competition their bowling let them down.
Mott acknowledges the failings: "These are tough times. We have had out share of injuries but that's no excuse.
"We have just got to get into winning ways.
"We can turn things around. We have just got to keep believing, keep chipping away and hopefully the results will come.
"[The Hampshire game] wasn't anywhere near what we want to be performing in one-day cricket," he conceded.
"Our bowling didn't start anywhere near we wanted it to start [against Hampshire].
"The way they [Hampshire] batted at the top they were extremely punishing of anything loose.
"Simon [Jones] is certainly under-done with his bowling and that showed a fair bit [against Hampshire]."
Added to that Wagg has a fractured foot, Jim Allenby and Robert Croft (both back problems) and James Harris (groin) are all sidelined.
"[Wagg is a] massive loss. He has been our best all-round performer this season. His bowling has goner to a new level.
"His batting in [CB40] this format is very dangerous.
"Marcus is ready to go for Scotland. Big addition to the batting unit and hopefully we can get Jim back in the bowling.
"[James] has had the jab. We have eliminated just about everything it can be. This is our second last crack at it.
"If it goes well he could be back within the next five or six days. If it doesn't go to plan we will have to look at another option or take five or six weeks."
Mott has not ruled out that Harris might need more surgery after a double-hernia operation in February.