Alec Stewart column: Global game causes modern problems

By Alec Stewart
Former England captain and BBC Radio 5 live summariser
Last updated on .From the section Cricket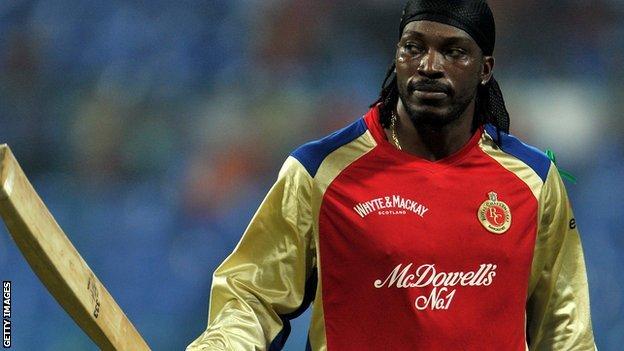 Last week I said I was hopeful of seeing Chris Gayle resolve his differences with the West Indies Cricket Board in time to play in the limited-overs games against England later in the summer.
Since then, we've heard the news that Gayle will indeed be available for the one-day and Twenty20 internationals after he finishes his Indian Premier League commitments.
It's good news for the simple fact that, in international cricket, you want the very best players playing against each other.
I still think it's a pity that he's not playing in the Test series because, as good as the IPL is, in a perfect world players wouldn't have to choose between that and international cricket.
It's a modern issue that Twenty20 has thrown up. I appreciate that players can make decent money playing the IPL, so I would love to see the organisers and the International Cricket Council come together and try to find a window so that the IPL takes place when there is no international cricket being played.
While it's good news for the Windies that Gayle will be available later in the tour, it's bad news for Somerset that he now will not be able to play Twenty20, and I have certain sympathies for them.
To lose a player of his calibre at a relatively late stage is not easy. They have moved quickly to sign Faf du Plessis but, with respect, he is not Chris Gayle.
This is another modern issue. Because of the IPL and the amount of international cricket that is played, it is now quite unusual to see a county have the same overseas player for the entire season.
In years gone by, because county cricket was really the only cricket being played in the world between April and September, you would see the same players returning season after season.
The likes of Wasim Akram at Lancashire, Gordon Greenidge and Malcolm Marshall at Hampshire, Sylvester Clarke at Surrey, Clive Rice and Richard Hadlee at Nottinghamshire, to name just a few, became synonymous with their counties and they were the best cricketers around at the time.
Now, because of the cricket that is going on all over the world, it is not unusual to see counties having three overseas players in the same year.
If a county wants the same overseas player for the entire summer, they may have to move for someone who has not played for his country or has retired from international cricket, so arguably you could question whether or not the quality would be higher than the domestic players we already have.
If a county decides to sign players currently involved in international cricket, it can make it very difficult for the management and coaches to plan for the season. At the back of your mind, you know that another tour can easily be scheduled, thus robbing you of the services of your overseas player.
This means that your planning has to be spot on, and you have to have a bit of luck if you are going to have a player of high calibre that is available for a decent number of games.
Allied to the theme of cricketers being able to make a living playing all over the world is the news that the England and Wales Cricket Board has extended the qualification period needed to be served by players born abroad who want to play for England.
I'm very pleased because a seven-year qualification period shows just how dedicated someone would have to be to play for England.
All you can ask is that any player who pulls on an international shirt is committed 100% to that country and that they are not just playing for themselves or the money they could possibly make.
Having to wait seven years, rather than four like before, confirms that person's desire to play for the country for which they have qualified.