Dave Richardson set to be appointed ICC chief executive
Last updated on .From the section Cricket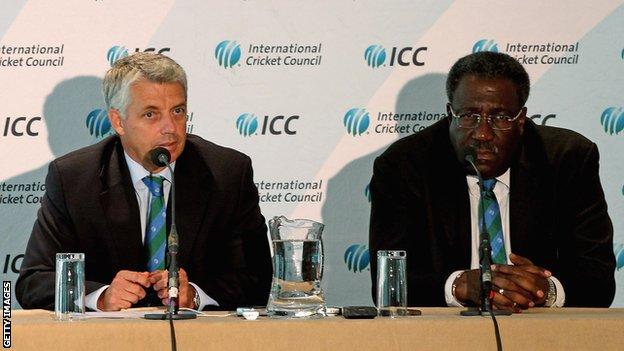 Dave Richardson is set to take over from Haroon Lorgat as chief executive of the International Cricket Council next month.
He has been recommended by the ICC nominations committee, which interviewed four candidates in Mumbai.
The 52-year-old former South Africa wicketkeeper will become the first ex-international to fill the role.
"It is a great honour to be nominated," Richardson said. "I am delighted with this opportunity."
His appointment is expected to be ratified at the ICC's annual conference in Kuala Lumpur, Malaysia on 28 June.
Richardson played 42 Tests and 122 one-day internationals between 1992 and 1998 and has been general manager of cricket at the ICC, the game's governing body, since 2002.
ICC vice-president Alan Isaac, who led the recruitment process, said: "David Richardson was an outstanding candidate who not only had important knowledge of the ICC administration, its staff and its operations but also unquestioned cricketing knowledge having represented his country so admirably.
"His appointment will provide continuity and a smooth transition after Haroon Lorgat steps down."
Lorgat announced last November that he will stand down next month after four years in charge.