Marcus Trescothick concerned by Somerset injury list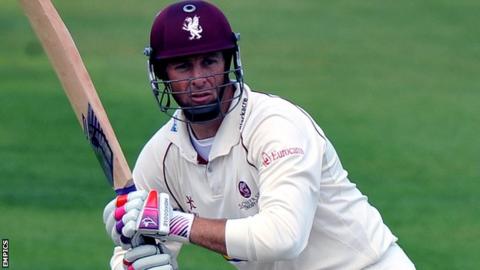 Captain Marcus Trescothick says it has been hard for Somerset to cope with their extensive injury list.
Opener Trescothick, 36, is one of five players to be sidelined during the opening five games of the season.
"I think you're always concerned when you get a decent amount of injuries," he told BBC Somerset.
"We are in a situation where we are down to our last 11. There is no doubt it's tough and it's sad where it is at the moment."
He added: "But it's professional sport and it's part of the job you go through.
"You're still going to get the same quality with the lads going out with the will to win."
Trescothick suffered a serious ankle injury in their third game of the campaign against Nottinghamshire, and had to undergo surgery which will rule him out for at least eight weeks.
But the former England batsman believes that although the absence of first-team players could affect the start of the campaign, it could mean they have fewer injury worries towards the end of the summer.
"We don't run on a big squad system here at Somerset. when you pick up four or five injuries it makes it really hard," he continued.
"We've been quite lucky with the weather we've had because the games haven't been able to be completed.
"But as quick as we've been injured, we could all come back together.
"Come the end of the season it might be a little bit easier, as we might be a bit fresher."
There has also been enforced changes to their overseas line-up, after world-famous batman Chris Gayle opted to renege on his contract in favour of playing for the West Indies.
The club immediately signed Faf du Plessis in his place but Trescothick admits: "We're all really disappointed it hasn't come off.
"We were all excited about seeing him [Gayle] play. He's probably the most sought-after T20 batsman. With the small boundary here he could have been whacking it for miles, and that's a spectacle fans want to see.
"It's such a shame it happened so close to the start of the season."