Paul Collingwood hoping to recover from poor form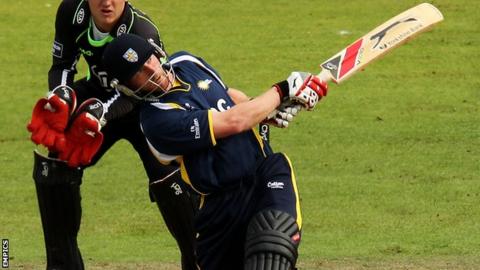 Durham's Paul Collingwood remains confident the runs will soon flow despite making a slow start with the bat to the new county season.
Collinmgwood, who will captain his side against Somerset in Pro40 action on Sunday, has made just 37 runs from five innings in the County Championship.
"I've hardly scored a run in the first four or five innings, so that's disappointing," he told BBC Newcastle.
"I feel that runs are just around the corner and I'm in really good nick."
The opening weeks of the current campaign has been blighted by rain and Collingwood has admitted that the conditions are not conducive to good performances.
But the 35-year-old, who played 68 Test matches for England and skippered them to victory in the 2010 World Twenty20 competition, believes he can draw on his experience to get him through this tricky spell.
"I've gone through bad patches in the past. Cricket is very much a mental game. In these conditions it's hard, sometimes you don't do anything wrong and you still edge a ball and you're out.
"You've got to stay as positive as you possibly can be and as mentally strong as you can be to believe the next time that you go out there you're going to make a match-winning innings. It's not easy.
Collingwood is excited to be given another taste of captaincy for the Pro40 match with Somerset on Sunday following an injury to Dale Benkenstein.
"I will be taking over the reigns on Sunday. Benkenstein is looking very doubtful, so I look forward to the challenge of taking the boys out to the middle," he added.
"We've got a really good, strong squad. There are a lot of stars in the second squad. We want a good result to kick-start the season."