Stephen Moore column: Weather further dampens Lancashire start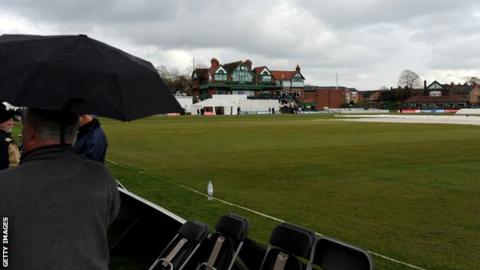 Comparing the start of this summer to last year, there could scarcely be more contrast.
I've swapped the sunscreen for thermals, three wins for three defeats, and endless sunshine for persistent rain.
This type of juxtaposition is something that is common place in professional sport, and with regards to English meteorology, it is a near daily experience.
I learnt very quickly upon my arrival as a teenager from South Africa that packing my cricket bag for a match would take on a whole new level of preparation. No longer would T-shirt, shorts, and cricket whites suffice.
A plethora of fleeces, track suits and waterproofs would have to find space in my bag, often at the expense of an extra bat or pair of boots.
History and personal experience have necessitated this extra level of planning, giving me comfort in the knowledge that I can deal with the changing conditions, but it is maintaining enthusiasm while frantically clutching hand warmers in the field that is the real challenge.
Much has been said of the early season conditions. The fact is that wickets in April and May always tend to be more bowler friendly than in July and August. In every season I've ever played, this has always been the case.
I know that a hard fought 70 now is often equivalent to a fluent 120 in August. Like with my equipment, I know I have prepared for the conditions, the hardest thing is managing my own expectations.
As a professional sportsman you are naturally a very competitive person, and despite understanding that conditions are not particularly suited to you, it is hard not to get frustrated when your own performances are not meeting your high standards.
Of course it is only once the game is finished that you can reflect on your contribution to the result, and then decide how you are going to get better, win or lose. It is this competitive desire for continual improvement that heightens both the highs and lows of sport.
We are desperate as a side and as individuals to improve on our success last year, which spurred us to train harder and better than we ever have during the winter months.
Unfortunately this doesn't always reap the immediate rewards that you want or expect, as we are experiencing now.
Our true test will be how we emerge from this contrasting start to our season. Top sportsmen are often quoted as saying they learn more in defeat and when conditions are tough, than when they are leaping from one win to the next.
I must admit though, this learning experience would be a lot easier to bear with some Caribbean-like weather.
Due to the nature of the current structure of county cricket, and the long-term weather forecasts, it looks like things are not going to improve dramatically anytime soon.
By the time summer kicks in, we will be half way through the County Championship season. Therefore it is paramount that we learn fast in order to be in a position to compete come August and September when the trophies are up for grabs.
If we can rise to the challenges of inclement weather, difficult pitches, and a packed schedule as a side, then we might have taken one more step to becoming a team we can be proud of, and we will definitely have built on last year's experiences.
As Rudyard Kipling is quoted above the players' entrance to centre court at Wimbledon: "If you can meet triumph and disaster and treat those to impostors just the same..."
Let us just hope that by the time the competitors at the All England are reading these words, my extra clothing will be well and truly buried at the bottom of my cricket bag... that is until tomorrow.
You can follow Stephen Moore on Twitter at: http://twitter.com/stephen_moore6 (external site)