Jonathan Agnew column: Testing conditions for West Indians

By Jonathan Agnew
BBC cricket correspondent
Last updated on .From the section Cricket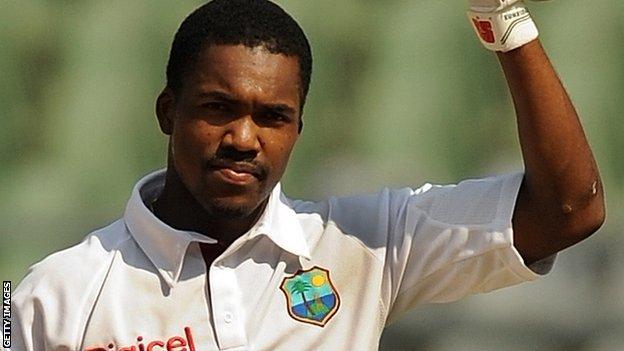 One of the many issues raised by the amount of international cricket which has to be shoehorned into 12 months is the unsuitability of playing Tests so early in the English summer.
Whoever comes here in May gets the short straw through lack of proper practice, demanding batting conditions and a short series.
I am not too bothered about the conditions.
After all, England have to travel to face other teams in their own back yard and, as we saw this winter, sometimes find it tough going.
West Indies had a disappointing tour here last time they came so early in 2009, barely competing in either of the Tests, and now they face the same challenge.
As usual, there has been a disorganised build-up with visa issues and players preferring to turn out in the Indian Premier League rather than playing for their national side.
There was a time when Caribbean chaos had a certain charm about it - but not any more.
The game has moved on, and I can't see how the West Indies side will ever regain its swagger on the field until the administrators sort out their shambolic organisation off it.
That said, there have been some recent signs of improvement, with West Indies almost beating Australia last month.
It needs perspective in that they have won only two Tests of the 30 they have played since Jerome Taylor routed England in Jamaica in 2009, but for those of us who love the unique beat, rhythm and character of West Indies cricket, it was at least a cause for optimism.
They have a bowling attack which contains firepower - it remains to be seen how accurate it will be in these games in which every run will be vital - and it will be exciting to have a first live look at Darren Bravo.
England are proving invincible at home, and it is not being unrealistic to expect their bowlers to really worry West Indies in these conditions.
James Anderson and Stuart Broad are simply too canny these days to bowl too short, and it will be interesting to see which of Graham Onions, Steve Finn and Tim Bresnan gets the final place.
The pecking order suggests Finn, conditions point to Onions while England have won every Test in which Bresnan has played.
While it was bad luck for Ravi Bopara to rule himself out through injury, I am not sure we would have learned much had he played in this particular series and scored runs.
He has done it against West Indies before, after all, hitting three hundreds to earn the flattering position of number three against Australia in 2009 - and he failed to survive that Ashes series.
This is the ideal opportunity to have a look at a youngster we do not know, and give him the chance to impress.
It might been either James Taylor or Jonny Bairstow who got the nod, but Bairstow's attitude caught Andy Flower's attention in India before Christmas and he is a really exciting prospect.
England supporters will be hoping Andrew Strauss gets a big score early in order to put a stop to the speculation about his future as captain.
This series is a big challenge for him - there is no question about his strength as a leader, but just one century in 30 Tests is not good enough for an opening batsman.