Sussex's Matt Prior praises attitude of Joe Gatting
Last updated on .From the section Cricket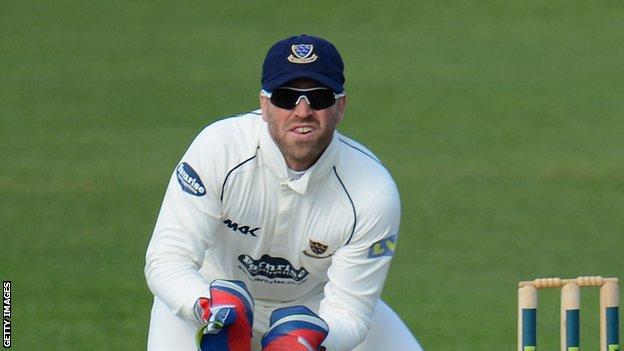 Sussex wicketkeeper Matt Prior has praised Joe Gatting for his recent cameo with the bat against Lancashire.
Gatting, 24, hit 42 runs off 40 balls to help Sussex to 300 runs and pick up a third batting bonus points.
Prior told BBC Sussex: "When he came in there was a huge amount to do and what impressed me was the selfless manner in which he did it.
"With competition for places he could have got a 20 not out. He only had one goal, to get to 300. It was fantastic."
Meanwhile the England international has also been impressed by fast bowling duo James Anyon and Steve Magoffin.
Anyon already has two five-wicket hauls in the County Championship this season while Australian right-armer Magoffin has taken 13 wickets in his three appearances since joining from Queensland.
"Steve is ideal for what we need," Prior continued.
"We've got couple of attacking bowlers but we need someone who bowls with control, and Steve fits the bill brilliantly.
"He's also great in the dressing-room, which is also important for an overseas player.
"Jimmy Anyon is showing the class that he can potentially have in years to come. He's got good pace and when he gets into his rhythm he looks a class act."