England v West Indies: Matt Prior's climb to the top of the world
By Stephan Shemilt
BBC Sport
Last updated on .From the section Cricket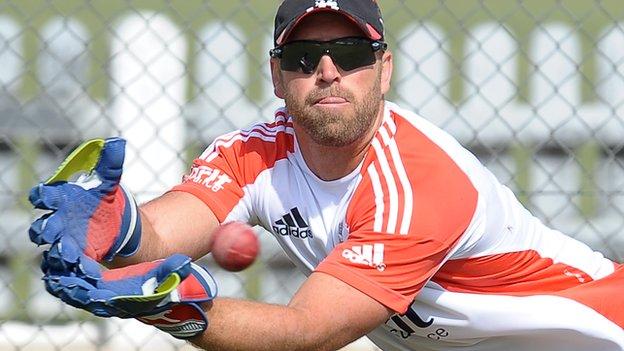 In a piece of perfect symmetry that sport has a habit of creating, Matt Prior will mark the fifth anniversary of his Test debut on Thursday at the same ground and against the same opponents as he first made an international impression.
Against West Indies at Lord's in 2007, Prior announced his arrival with a century and became England's first wicketkeeper to reach three figures on debut. With Chris Read and Geraint Jones both discarded after the 5-0 Ashes whitewash in Australia, Prior looked set to be part of the foundations of a new England team.
But, by the end of the year, he too was dropped, as costly errors with the gloves outweighed the value of a batting average in excess of 40.
"He needs to further improve his wicketkeeping in order to realise his full potential in international cricket," said the then chairman of selectors David Graveney when omitting Prior for the tour of New Zealand in early 2008. "I'm sure Matt will be back, there's no doubt about that."
Graveney was right, and Prior was recalled less than 12 months later. In the four years since, he has become an automatic selection during England's ascent to the top of the world Test rankings. When discussing which of the current England side could be classed as the best in the world at what they do, Prior's claim is likely to cause the least debate.
"If you get dropped it's hugely important how you deal with that period you are out of the team," said the 30-year-old Prior.
"I only learned recently just how much work wicketkeepers have to do.
"To be a top-flight international wicketkeeper, the amount of work that has to go into that is pretty immense.
"But thanks to [England wicketkeeping coach] Bruce French and the others that have helped me along the way, I've managed to get there in the end."
The blueprint for a modern Test wicketkeeper-batsman is simple: succeed with the bat, do not fail with the gloves. More often than not, a keeper will be judged on the runs he scores - if his glovework is highlighted, it is likely to be for a mistake.
Few would suggest that Prior is the most talented pure wicketkeeper in England - Nottinghamshire's Read and James Foster of Essex are the most likely to lay claim to that title - but the mistakes that blighted the first part of his Test career, most notably dropping Sri Lanka's Mahela Jayawardene while he compiled an unbeaten 213 in Galle, have been eradicated.
"He knew he had a point to prove when he came back in," former England coach Peter Moores, who presided over Prior's debut, dropping and recall, told BBC Sport.
"He returned and kept well, which was the important thing. That stopped people talking about his keeping, and he has also found a way of getting runs.
"You can't survive at that level unless you can keep, otherwise you get too exposed. It's hard work to get a Test-match edge, so the keeper has to be up to the job.
"He worked at his game, and came back in on a real mission to stay in the side. He's done that through keeping very well and being a very reliable batsman."
Very reliable indeed. At 43.09, Prior's batting average is the highest of any England wicketkeeper to have registered 100 victims and scored 2,000 runs, and is only bettered in world cricket by Andy Flower, Adam Gilchrist and Kumar Sangakkara, who has given up the gloves to concentrate on batting.
"He has become the best Test wicketkeeper-batsman in the world," said former England captain Michael Vaughan. "He's become the engine of the team in the field and the most important thing is that he hasn't dropped anything. He's been immaculate.
"His batting at number seven has been a revelation - he's not quite doing what Gilchrist did for Australia for all those years, but he's getting close because he comes in and attacks. He takes the game away from the opposition, which is vital for your number seven to do."
Gilchrist's performances for the all-conquering Australia side of the 2000s have made him the yardstick on which all other wicketkeepers are measured. The Australian, following in the footsteps of Flower, Ian Healy and Alec Stewart, changed the rules so that a keeper is expected to contribute as many runs as the specialist batsmen.
In that sense, Prior is among the very best to have donned the gloves for England.
Moores believes Prior is "right up there with the top keeper-batsmen England have ever had", while Vaughan goes a step further.
"In years to come he could quite easily become England's best wicketkeeper-batsman - I really think he's that good," said the Test Match Special pundit. "He's going to be right in that category of what Alec Stewart was. It's hard to say who is better than who, but Prior is right in that bracket."
Prior, who, after the start to his Test career, knows how quickly fortunes can change, is happy to play down the praise that comes his way.
"It's obviously always very nice to hear that, but I won't start believing it just yet," he said.
"There's still a lot of cricket and a lot of work to do going forward. I'm just trying to consistently improve, keeping and batting, and keep putting in performances - because that's what we are ultimately here to do."