England v West Indies: Matt Prior thrilled for Jonny Bairstow
Last updated on .From the section Cricket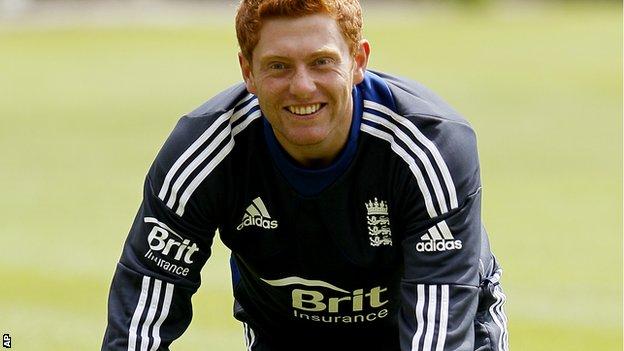 England wicketkeeper Matt Prior is delighted Jonny Bairstow has been given an opportunity in the first Test against the West Indies at Lord's.
The Yorkshire batsman, who has won six caps at both one-day international and Twenty20 level, is set to follow in the footsteps of his late father, David.
Prior is likely to move back down the order to accommodate the 22-year-old.
"It's fantastic Jonny's come in. If he gets his opportunity this week I hope he takes it," he said.
"As I've said many times before, whether I'm batting six or seven makes no odds to me as long as we get the balance of the team right and end up getting a win."
Prior, 30, has also backed captain Andrew Strauss, who is under pressure after making just one century in his last 49 attempts at Test level.
"The fantastic thing about Straussy is that he's just 'Mr Consistent'," he said.
"He could score four hundreds in a row, four zeroes in a row, but he'll be exactly the same person."
England will expect a harder end to the summer when they take on South Africa - their nearest rivals to the number one spot in the world rankings.
However, Prior insists there will be no complacency against the West Indies, who are currently struggling in seventh place.
They showed signs of improvement against Australia, despite a series defeat at home, and boast the world's top-ranked Test batsman in the obdurate Shivnarine Chanderpaul.
"This is a very tough series in its own right," he said.
"I think if you get complacent or take things easy in Test cricket, or international sport in general, you get bitten pretty quickly.
"There's no room for that in our dressing room."
The tourists had injury concerns over pacemen Kemar Roach (ankle), Fidel Edwards (back) and Ravi Rampaul (stiff neck), but all took part in practice on Tuesday.
"Everything looks all set for Thursday," said coach Ottis Gibson.
"We know it's going to be a challenge - but the selectors have got a lot of confidence in the players, as I have.
"Not a lot of people perform outstandingly well at home and, bearing in mind we are still in a rebuilding phase, these guys are the guys the selectors have decided are the ones they want to have first go at rebuilding the team.
"These are the guys who have to take the challenge and play their best cricket in the series."