Kevin Howells column: County structure far from solved

By Kevin Howells
BBC Radio 5 live
Last updated on .From the section Cricket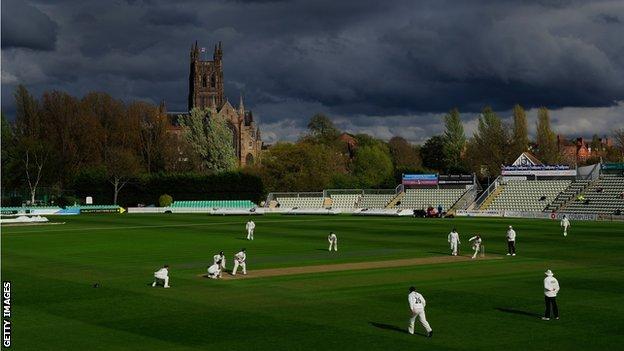 Want doesn't get. Demanding, or even politely requesting, does not guarantee your wish will be granted.
That certainly applies to the first-class game in England and Wales. We're told every time the question of how to improve the schedule is raised that everybody has had their say.
In a meeting of chief executives of the 18 counties, there will be at least six or seven different answers.
Outside of those meetings views range from 'if it isn't broken don't fix it' to the more radical reduction in the number of days cricket is played, with the Morgan report suggesting that the number of Championship matches every season be cut from 16 to 14 per team.
That review is being reviewed. That is leading to another summer of 'red hot cricket chat' over the way forward. Except it isn't 'red hot'. Frankly it's become very dull. Too many people are saying what they want and not so many how you achieve it.
I'm looking forward to reading the public survey being carried out this season. At the time of writing that process is yet to begin. The England and Wales Cricket Board will have to get on with it, especially if they're to ask those who attend Championship matches what they think given we're fast approaching the half-way mark in the season.
The board meeting in September is when one of its members told us he's expecting to evaluate the findings.
They will have to ask the public as they have said they would. After all, we're told this is all about the paying spectator and putting on what they want, when they want it. If not, all these decisions could have been made a couple of years ago in the offices of the good and powerful.
The recent Professional Cricketers' Association survey showed 91% of its members firmly backed the Championship and said it remains the most important competition.
But they also want the T20 competition to rival the IPL. Ask Somerset how easy that will be, given their experiences with Chris Gayle and Faf Du Plessis.
Kevin Pietersen, recently back from the tournament, says why wouldn't anybody want to play the IPL when it involves the best players in the world. That leaves the lesser lights to freeze to death playing in England and Wales in April and May.
As to how the game in this country could fund a competition to financially rival the IPL is not so well documented.
The idea of city franchises is again being written about. Even then it would have to compete with the era of 'let's fill every day we can with yet another international series somewhere'.
The CB40 competition is a format in the firing line now. To some it feels like the unloved and uncared for relation.
Does it have the potential to arouse the sort of passion among supporters that the first-class game does?
The promise of a Lord's final has lost its mass appeal. This season it will be played two days before the World T20 gets underway, so it will again have a second tier atmosphere.
It does fill a lot of airtime and does put a few bums on seats in some places, but the more the public care less, so will the players.
Too often these days I hear people tell me they can't really say what they think, and too often I am bound to remark that what is said in public is a million miles from what is said in private, almost to the point of why bother asking. That doesn't apply to everyone.
During the recent Five Live sports extra programmes on county cricket we've talked to a few people trying to understand more about what is happening.
Lancashire chief executive Jim Cumbes told us that his personal view was to see a Championship of three divisions of six.
"You would reduce the clutter of fixtures," he said. "You wouldn't reduce the intensity as teams would be fighting like fury to get out of the third and the second division. So that is a possible route out.
"People say spectators like Championship cricket. That is not true. Members like Championship cricket, that is true, but you can't cater for just one body of people. We all want to keep our members happy, they are important to cricket clubs. But if you're going to get venues of 6-10,000, and some 15,000, you have to look at that as well. It's money that keeps cricket going."
Andy Nash, the chairman of Somerset, told us that at a meeting post the Morgan report, every county supported a 40-over as opposed to a 50-over competition. At Taunton, gates halved when comparing one format with the other.
He also told members at the club's AGM that if it was ECB policy to reduce the number of days cricket is played in a season by eight to 12 days, you have to adjust championship cricket.
"With nine out of 18 clubs making a loss, to remove a one-day competition is something cricket couldn't live with," he said. And so it goes on.
Mick Newell, director of cricket at Nottinghamshire, best sums up my feelings: "Tell us what to play and we'll play it". I'll report on it.