Jonathan Agnew: West Indies battle as absent players impress

By Jonathan Agnew
BBC cricket correspondent
Last updated on .From the section Cricket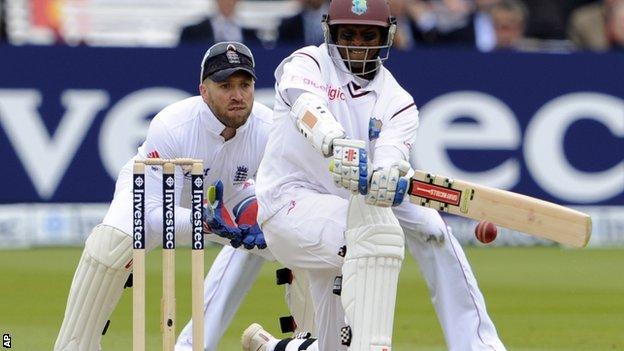 West Indies showed the determination and the professionalism we were looking for on day one of the first Test against England at Lord's.
Although they have lost nine wickets, which they will be disappointed about, it was not as a result of slack or sloppy batting.
They knew they were playing in England in challenging conditions and they got their heads down and battled away. They will be pleased with that and at least it was not the sort of frenetic batting performance we have seen from them before in these conditions.
England are a very challenging bowling attack in these conditions and no-one would have wanted to face them on Thursday.
The ball did just enough - not a huge amount, but enough that if you are James Anderson or Stuart Broad you are always going to get among the wickets.
All those things combined, it was obviously England's day and they are in a very good position to really consolidate and to bat West Indies out of the game at an early stage.
But if the West Indies pace attack - and they have got some decent bowlers - get the ball full, which is the key, they will ask questions of England's batsmen. They they are by no means out of it and they will be pleased they didn't go down batting recklessly.
While West Indies were batting here, players like Chris Gayle and Dwayne Bravo were in action in the Indian Premier League.
Gayle scored 128 from 62 balls for Royal Challengers Bangalore and Bravo managed 48 for Chennai Super Kings.
It's very frustrating, isn't it? It's a great shame that there is this distraction going on. The West Indies Cricket Board is perfectly at liberty to stop these players from going as it has to sign non-objection certificates to let them go and it hasn't done that.
You can't begin to compare IPL with Test cricket. Gayle has got a great eye and he just stood there and smashed it. That's the sort of cricket he likes to play.
He has said publicly that he much prefers playing Twenty20 to Test cricket. He can do that and make lots of money. I'm not sure he would have got his head down here and battled away as his successors have tried to do.
It is frustrating for West Indies cricket lovers to see some of their main players not playing a Test match at Lord's and that's very sad. You can only play with what you have got.
They have got Chanderpaul, who was unbeaten on 87 at the end of day one, and he is unbelievably difficult to bowl at.
He is the most unusual, highly unorthodox batsman and it is not straightforward bowling to him at all.
He gets into some very strange places and hits the ball in odd places and you have to completely review the way you are bowling to get him out.
He loves batting in the sort of situation he found himself in on day one - backs to the wall and frustrating the bowlers. It was made for him.
Listen to how the opening day of the international summer unfolded on the TMS podcast.