Kent yet to plan beyond Scott Newman's loan expiration
Last updated on .From the section Cricket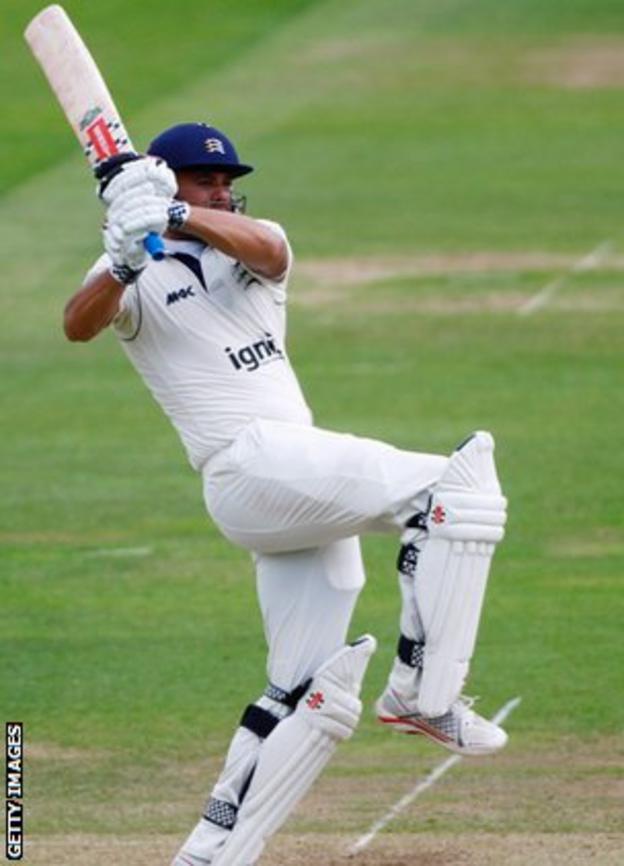 Despite Scott Newman's loan expiring in two weeks, Kent have yet to decide the future make up of their top order.
When asked about the left-hander's future, Jimmy Adams told BBC Radio Kent: "That hasn't been decided yet.
"When the time comes, we're going to look at everything that's happened in the first team and the second team."
It is unlikely that Kent will keep Newman at the St. Lawrence Ground, after Adams announced that their hopes of signing an overseas player for the FL t20 campaign were being held back on financial grounds.
That could open the door for Northeast, who has been limited to just two first-team appearances in 2012 following the arrival of four batsmen during the off-season.
Northeast has responded in fine style to his omission, striking two centuries for the Kent Second XI.
Similarly, Daniel Bell-Drummond, whose availability has been scuppered by England Under-19 responsibilities, scored 77 against Sussex's second team on Thursday and top-scored with 43 against the same opposition in a one-day fixture on Tuesday.
And Adams said he was keeping a close eye on the youngsters' progress.
"Ultimately, you want players who can graduate to this level who have an understanding and a mindset of what it takes to be consistent.
"It's very heartening to see Sam's scores and I think Bell-Drummond's got some runs as well and Alex Blake. They can't do any more than that."
Adams also said he was looking forward to contributing to the MCC World Cricket Committee, following his invitation - along with Kent and England women's captain Charlotte Edwards, to join the board.
"Courtney Walsh was on it for a few years and I heard through him about some of the work they'd been doing," Adams said. "It will be interesting.
"And womens cricket keeps growing, it's becoming a large part of the international fixture list - and rightly so - so it's good to have someone with [Charlotte's] experience who's been in the womens game for so long and done so well and got to know the game intimately."
Edwards, who is the first woman to be invited onto the Committee, added: "I'm obviously very honoured and priviliged.
"It's another great step for the women's game and recognition for us, and for me to be chosen is fantastic.
"Hopefully we can move the game forward and if I have recomendations from my point of view and womens games [I can pass them on], it's great we have that recognition now."