Jonathan Agnew column: Media delight for Strauss hundred

By Jonathan Agnew
BBC cricket correspondent
Last updated on .From the section Cricket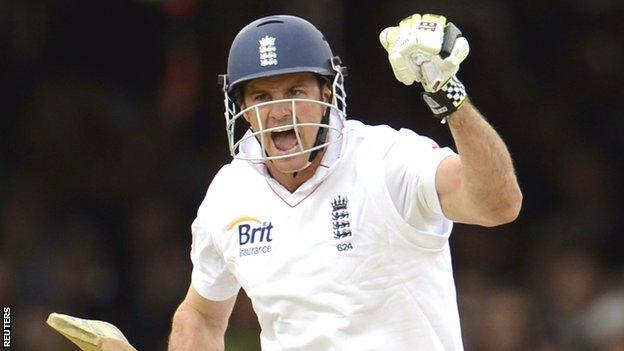 What England wanted out of this match was to win it with Andrew Strauss scoring a hundred. They have the latter and, 16 runs ahead with seven wickets remaining, they are well on course to achieve the former.
The truth is, when the captain has not scored a century in 25 Test innings it becomes an issue. If he was an ordinary player he would almost certainly have been dropped. The time had come for Strauss to perform and he knew that.
It is not just the captain himself who is burdened by the pressure, the players feel it as well. It has a much bigger impact than if it was any other batsman. But now Strauss has taken the pressure of himself and it will transform the team; it will transform everything. You could see that when Kevin Pietersen swept him off his feet in celebration.
There had been talk of a media witch-hunt against Strauss but that is utter nonsense. There isn't a person in the media who I can imagine having any feelings against him. He is a likeable and thoroughly professional man who demands respect and he is a terrific person to deal with from a journalist's perspective.
Those from the media who work with Strauss on a daily basis will be as delighted as anybody that he has got his ton.
Someone suggested the standing ovation for Alec Stewart's century in his 100th Test at Old Trafford in 2000 was longer, but this one for Strauss was as long as I can remember. There is a lot of affection for the Middlesex player, who has been a wonderful servant for England.
He played well. He got a bit anxious in the last 20 runs or so before reaching his 100 and the West Indies attack wasn't particularly challenging but a ton has still got to be scored.
It wasn't necessarily a pretty innings but he played in a methodical, disciplined style. He cut, he worked it off his hip and, if it was a full half-volley, he would drive it. Everything else was cut out during his first 80 runs.
He had a minor lapse in the 90s when he tried to force one that wasn't there but even someone who has scored 19 hundreds can get nervous and he got his bit of luck with the dropped catch and no-ball.
Earlier, and like Strauss, Stuart Broad has hit back and performed by taking his best figures. He has struggled with injury but bowled really intelligently and I don't think we'll ever see a head-strong Broad slightly losing it and bowling short. He knows how to take wickets now and he is very good at it.
Unfortunately, the West Indies' demeanour and over-rate sent out all the wrong messages.
Even if you're struggling you have to look like you mean business and at least have some energy and vitality. Yes, it is cold and it is different to playing in Bridgetown, Barbados, but hands in pockets is scruffy and looks as if you don't care. I don't think that is the case but it doesn't look very good. It was not done when I played county cricket - it was banned. And Sir Viv Richards has gone bonkers watching it.
Fidel Edwards could have been more aggressive and tried to bowl bouncers and rush someone up. However, I quite liked Shannon Gabriel, who looks a useful prospect - he has a classical West Indies action - a nice tall, loose action. He'll come out with some credit.
England's game plan now will be to look to bat all day on Saturday if they can, pile the runs on and bowl the West Indies out on Sunday. But the second day has been really positive and it is great for England going into this series and with South Africa and India to come.