Jonathan Agnew column: England missed Chanderpaul chance

By Jonathan Agnew
BBC cricket correspondent
Last updated on .From the section Cricket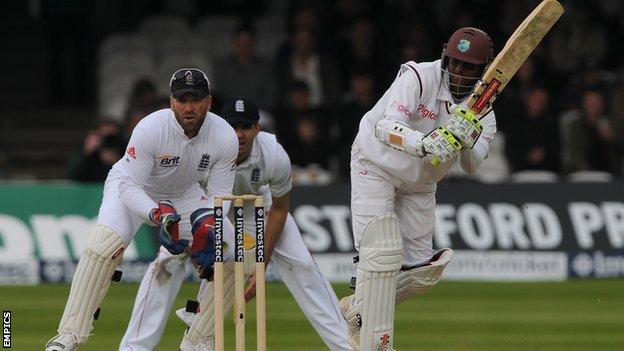 There is an inevitability about an England win in the first Test here at Lord's.
The forecast for the remaining two days is OK, and Sunday will be a good day to bowl - some cloud cover to help England's pace men, some warmth, and if there is a shower or two it now looks as if they will be brief.
With the West Indies four wickets down and still 35 runs behind England, Andrew Strauss's men are well poised.
They are 30 overs away from the new ball, and that's actually quite a nice place to be. They will know that if they can take a couple of wickets in that period then the new ball should allow them to polish the job off.
In their path, equally inevitably, stands Shivnarine Chanderpaul.
He clings to that crease like a limpet. He must be infuriating to bowl at - he leaves and leaves, prods and prods, and then as soon as you bowl something just a fraction fuller, he drives you away for four. He just never misses out.
There is something very distracting about bowling to a batsman who moves around in the crease as much as Chanderpaul does.
Bowling is all about having a picture in your mind - of where the stumps are, where the umpire is, where you want to pitch the ball.
When you have a batsman hopping and stepping, that picture is disturbed. You can bowl too far towards leg stump, to their starting position rather than their stance when the ball actually arrives, or you can over-compensate for the movement they will make.
From my career it was Kim Barnett, the former Derbyshire skipper, who caused all the problems. His stance as you came in was so skewed you felt you had to bowl differently to him, but by the point of impact he was actually in quite a conventional position.
I think England missed an opportunity by not being aggressive enough to Chanderpaul early in his innings though.
Tim Bresnan bowled some short balls at him towards the end of the day's play, but they could have done more to lure him out his comfort zone early on.
They could have had a third slip in rather than an extra cover, got Graeme Swann to toss the occasional ball up to bring him forward, or stuck another man in close to pile the pressure on him.
The way England got rid of Darren Bravo was a case in point. They created doubt in his mind, made him do something different, and when he played no shot to Swann's arm ball you saw the end result.
Bravo has had a strange Lord's debut. He has been run out by the length of the pitch, run out his partner in the second innings and then been bowled shouldering arms.
Despite his side's struggles I have actually been reasonably impressed by this inexperienced West Indies side.
I like the look of young Shannon Gabriel. He has shown no sign of nerves on his Test debut, despite the fact that this is the first time he has ever been to England, and he has a nice action and decent pace.
It's not easy for a young team to gel and fight when they're clearly losing a game, but you have to learn from these experiences and emerge stronger.
Where the tourists could have done more was when Swann came in with England eight wickets down.
He didn't get anything short from the bowlers at all, and as anyone who has ever seen him bat knows, that's where you have to make him play.
Instead, they kept pitching it up, and Swann was able to play his natural attacking front-foot game.
I do love the way he bats. It's enormously frustrating for the bowling side when a number nine comes in and scores such quick runs, and it gives the batting side real momentum to take into the next innings.
As for England's debutant Jonny Bairstow, I thought he did well.
He took his first ball in Test cricket on his chest, a la his fellow Yorkshireman Brian Close, played some nice shots and looked at home.
He might have made only 16, but his run-out of Kirk Edwards later in the day was excellent work and will have made him feel really involved.
On your debut you might not score loads of runs or take bags of wickets, but you want to go away knowing that you have contributed - and Bairstow certainly has.
Listen to how the second day of the international summer unfolded on the TMS podcast.