England v West Indies - day three as it happened
By Sam Sheringham
BBC Sport
Last updated on .From the section Cricket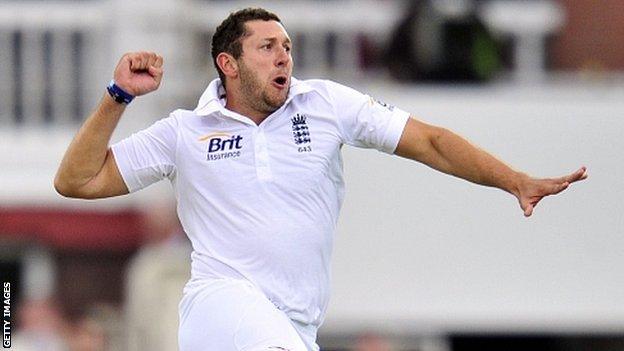 Please manually refresh for updates
Email the commentary via tms@bbc.co.uk, tweet us via bbccricket or text 81111 (UK).
CLOSE OF PLAY - ENGLAND LEAD BY 35 RUNS
1844: That's it from us for tonight. We'll be back at 10:30 BST with coverage of day four. Rest well.
Geoffrey Boycott, BBC Test Match Special: "It was an excellent day's cricket dominated by the bowling of both teams. The quality of pace, line and length was pretty good from the Windies and they gave England the hurry up. Young Bairstow did well, he looked as if he knows what he's doing. Sometimes it's not how many runs you make and sometimes good not to make too many."
1842: So a good final session for the Windies, with Samuels and Chanderpaul showing plenty of guts. England's bowlers perhaps started to tire a tad towards the end but they will be back tomorrow intent on seeing the back of the Shivster and pushing hard for a 1-0 lead in the series.
Phil Tufnell, BBC Test Match Special: "England will be slightly disappointed not to have a few runs extra lead and not take more than four wickets down. Chanderpaul will be the one they want to prise out in the morning but they will be pretty happy with today's play. It meandered a touch but they'll be satisfied with their position."
1831: WI 120-4: Bresnan opens up with a sharp short one which Shiv does well to avoid. Then a gift-wrapped full toss is slapped through the covers for four. A block and a leave and the bails are removed for the day.
1825: WI 116-4: Swann to Samuels, spin smothered, maiden. One more over to go to day we reckon.
Richard, Aberdeen, via text: "Forth bridge painter would be a very dull job since they don't paint it anymore."
Dave, Manchester, via text: "What about Chanderpaul as commentator on his own innings?"
1823: WI 116-4: Cracking response from Chanderpaul as he batters Bresnan for two fours in a row and easily fends off a bumper from the last ball of the over.
NOT OUT
The replay shows it's sliding down the leg side and Chanderpaul lives to fight another day.
UMPIRE REVIEW
Bresnan raps Chanders on the back pad, but did he nick it? We're going upstairs...
1817: WI 108-4: Samuels gets to the pitch and laces Swann through the offside for a crisp boundary. Samuels is just starting to play his natural game, but he's the kind of player who looks like he could get out at any time.
Robert Hempsall on Twitter: "Chanderpaul's powers of concentration would be of use in my upcoming two-day history open exam."
Sir Viv Richards, BBC Test Match Special: "Apart from some of the scuff marks you see, this is still a very good wicket. It's still playing very good."
1813: WI 102-4: Runs, three of them to Chanderpaul, then four to Samuels off a very thick outside edge to take the Windies past the 100 mark. Bresnan responds well and beats his man with one that seems to spit a touch off the pitch.
Jimmy, Bristol, via text: "Putting up a sun shade in the path of an avalanche."
Tom, Oxford, via text: "Shiv as next manager of Chelsea? He bats longer than the average reign of a Stamford Bridge boss."
1808: WI 94-4: Another maiden, dull, dull, dull. Let's have some more alternative forms of employment for the Shivster...
Richard in Sheffield via text: "Alternative career for Chanderpaul; Forth Bridge painter."
1805 - WI 94-4: One more to the Tom Fordyce red jeans count on the Pavilion balcony. Three slips and a gully in place for Bresnan to Samuels, with the Windies intent on playing for the close. I take that back as Chanderpaul has a wild waft at a bouncer above his head.
1800 - WI 91-4 OUCH! The physio is out having a look at a finger on Shiv's left hand after he was struck by Anderson. If he's broken it, they might as well call the series off now.
Mark Butcher, BBC Test Match Special: "It will be frustrating England that they haven't made a breakthrough, because I feel that if they can break this partnership the rest will fall pretty easily."
1755 - WI 91-4: Samuels follows Shiv's lead and drives Bresnan square on the off side for four, his hand coming off the bat and the top of the follow through, but the ball possessing of enough pace to reach the fence.
Phil, Winchester, via text: "Shiv as next Prime Minister of Greece?"
Adam Mountford, BBC Test Match Special, on Twitter:"Over 17 thousand tickets sold for Sunday not including members. So those @HomeOfCricket hoping West Indies dig in!"
1751 - WI 87-4: Wow, what a shot from Shiv, little more than a steer off Jimmy but it flies through the covers for four.
H M on Twitter: "Surely Shiv for King Canute, standing there all day everyday trying to keep the inevitable tide from coming in."
1747 - WI 83-4: One more to Chanderpaul, who now has 13 runs from 66 balls. Alternative career: an ice-cream salesman in Alaska?
1741 - WI 82-4: Bresnan maiden, one to Chanderpaul off Broad, then Samuels is beaten, with Viv Richards quick to berate him over his footwork, or lack thereof.
1733 - WI 81-4: Anyone still with us? Any thoughts on an alternative career for Shiv Chanderpaul? I mentioned the boy with his finger in the dyke in my "Six to Watch" piece but I'm sure you can do better. Something that requires immense powers of concentration in the face of a futile struggle against impending doom, of course.
Have you got a ticket for the fourth day's play at Lord's? Worried you might not see much cricket? Fear not, because Surrey are offering free entry to all ticket-holders for their Clydesdale Bank 40 game against Durham. You lucky souls.
1729 - WI 80-4: Samuels is very easy on the eye, threading Swann through gaps in the field for a pair of twos.
Sophia on Twitter: "Make this the last wicket for today, boys. We want to watch an actual match tomorrow."
1726 - WI 75 -4: Shiv has a rush of blood and pulls Broad to deep midwicket for two before laying into a half-volley, with only an athletic save from Jonny Bairstow preventing a four.
1722 - WI 69-4: Swann probes away in search of a wicket and Samuels almost obliges as he takes a couple of steps down the wicket and clips one in the air while isn't a million miles from offering a catch to mid-on.
Fred in London, TMS inbox: "You're also appreciated in the SOAS Radio recording studio at the School of Oriental and African Studies. We're doing a production of Dracula ... has anybody thought of staking Chanderpaul through the heart with his own bat? It's probably the only way to dislodge him."
DRINKS BREAK
1715 - WI 69-4: Chanderpaul is going nowhere fast here with six runs from 52 balls and he is tempted by Broad, withdrawing the bat at the very last milisecond.
1712 - WI 69-4: Swann sends down a rank long-hop to give Samuels a nice easy start to his innings.
Michael Vaughan, BBC Test Match special: "That just had a bit of in-shape and Bravo expected it to spin away. It's that horrible moment when he left it and just heard that clunk. He looks a real talent Bravo but that was great ball from Swann. That is one of the worst dismissals but you've got to give Swann credit. It's a shame. I do think the West Indies have got something to work with. You saw them this morning seven wickets for 130 odd but because of the inexperience you can see things like that and the run-outs happening."
WICKET - Bravo b Swann 21 (WI 65-4)
Bravo plays for spin, leaves the ball alone, but it goes on with the arm and clatters his off stump. Big breakthrough for England and still more than an hour to go tonight.
1705 - WI 65-3: Bravo has a slash and the ball flies through the vacant third slip area at head height. Amazingly, Strauss had just taken out third slip to bring in an extra-cover. Broad looks distraught, but Vaughan's pretty sure he sets his own fields. three runs follow through mid-on and two through the covers. Much better stuff from the Windies.
1700 - WI 56-3: Another over from Swann, another maiden. We've had 15 runs in the last 21 overs and we've got 25 more to go.
1657 - WI 56-3: Stuey Broad is back for England with the sun shining and the floodlights on at Lord's. A wristy single to Shiv and a couple to Bravo pushed into a gap on the off side.
1654 - WI 53-3: West Ham have won but it's a pretty subdued celebration from Goochie as he looks skyward and wiggles his fists a bit. Bravo plays with the spin to help himslef to two runs off Swann.
Adam Higginson on Twitter: "Great watching Gooch go through the ecstasies and agonies of listening to his football team on the radio on the balcony at Lords."
1650 - WI 51-3: Torture for Goochie in the closing stages as the Hammers cling on. He's looking at his watch with Fergie-like obsession. More entertaining than the cricket at the minute.
Geoffrey Boycott, BBC Test Match Special: "This ball is not very old; it's still pretty pristine. I think there's a good chance of losing a couple more wickets tonight, definitely."
1647 - WI 51-3: A knowing grin from Goochie can only mean one thing: West Ham have taken the lead at Wembley. Meanwhile Swann is having his first twirl of the innings, and a thick Bravo edge finds the boundary, the first in six overs.
1642 - WI 46-3: So Bristol students are in a library watching the cricket updates, Goochie is at the cricket listening to the play-off final, any West Ham fans at Wembley reading up on their physics? One to Chanderpaul.
Jeremy Greig, TMS inbox: "Gooch is actually listening to playoff final, massive West Ham fan. Has the headphones in and just mimed the score."
1638 - WI 45-3: Anderson raps Shiv on the pads and there's an appeal from behind the stumps. Nothing from Jimmy and rightly so, as the ball pitched well outside leg stump. Great over from Jimmy and he almost gets the edge with a lovely ball angled across the Shivster.
Chris Pye on Twitter: "Cracking day at Lord's, could really do with a wicket though, would you mind putting the mockers on either Shiv or Bravo Sam?"
1636 - WI 44-3: The Windies runs are drying up faster than a beer spillage in the desert. They trail by 111 after scoring 44 in 23 overs. Jimmy is moaning about the ball but umpire Erasmus isn't entertaining the idea of a replacement.
Ben Hamptson, TMS inbox: "This 'manual refresh' fun is all rather 2008. If it helps us win a similar Olympic haul, I am all for it."
Tom Fordyce, BBC Sport at Lord's: "All about this partnership for the West Indies. Chanderpaul has dropped anchor and stowed the sails in the hold. Bravo, apricot shoes possibly a nod to the colour of the famous Lord's pavilion, keeping his big shots on ice."
1629 - WI 44-3: It's all a but much for Goochie, who is nodding off on the England balcony. Maybe he was up in Piers Morgan's box with Lamby, Beefy and Viv earlier?
Good to hear that TMS and our Live text commentary is not confined to one library in Bristol. Glad to hear we're appreciated in York, Edinburgh, Exeter, Sussex and the pub next to the University of Newcastle library. Keep up the hard work chaps.
1626 - WI 43-3: Broad is off the field at the moment (not sure why), and he's been replaced by Durham leggie Scott Borthwick, who is busy practising his golf swing in the outfield. One more to Bravo, slower going than a tortoise marathon.
Matthew Hornby on Twitter: "Marcus Cresscothick?"
Richard Wilkinson on Twitter: "Jimmy Cori-anderson."
Myles Tullo on Twitter: "Herbal Gibbs?"
1623 - WI 42-3: Bravo breaks the shackles in style with a handsome cover drive to the boundary.
Jack via text: "Jonathan Ag-new potato."
1619 - WI 37-3: It's a blockathon out there and Shiv doesn't even contemplate a scoring shot to Bresnan's latest over.
1615 - WI 37-3: Lord's is a buzz of expectation with England right on top and Bravo needs all his powers to survive a probing Anderson over. The Lara clone is yet to score from 17 balls.
Sian Culley on Twitter: "Vikram Soilanki?"
Bill Scott on Twitter: "Thyme Bresnan."
1611 - WI 37-3: Close, but no cigar to Bresnan as Chanders edges one just short of second slip. Survival is the name of the game for the Windies at the mo.
1609 - WI 37-3: Chanderpaul gets off the mark with a dinked single to square leg, the first of many, or so the Windies will be hoping.
Sam Hogarth, TMS inbox: "Mike Brierley. Graeme Hickory. Stuart Broad Beans."
Will Hay, TMS inbox: "AshTree Giles."
Mike, Oxford, via text: "Gus Loganberry? Dale Grass-Steyn? Alan Knottweed?"
1604 - WI 36-3: Bravo watchfully sees out the rest of Bresnan's over and more importantly, TMS have latched onto our gardening cricketers theme and are Tuffers is in stitches.
1602: Tea drunk, cake gobbled. We're underway again with the Windies with some serious work to go.
Giles, via TMS inbox: "When it comes to revision and test match special the best idea is to get into the library early, like the members at Lords. Occupy the discussion room with like-minded cricket enthusiasts, and listen to TMS, oh and revising of course."
Tom Fordyce, BBC Sport's chief sports writer: "The match takes a decisive turn at tea. Three wickets - two of them needless - go down for no runs. Brilliant fielding from Tyro Bairstow to run out Kirk Edwards, and the England fans stream out onto the concourses for tea with smiles and back-slaps all around."
And with Titchmarsh arriving to join Aggers for the tea-time chat, time for some more gardening cricketers...
Ed Atkinson, TMS inbox: "Would you select Laurie Potter? Or Stuart Broadbeans? Or even Ian Bellpepper?"
David Patch, TMS inbox: "Chive Lloyd's team… Paul Shallot, Graham Onions, Allium Lamb, Brett Leek."
Viv Richards, BBC Test Match Special: "It was a yes and no situation and in this situation somehting will happen and they just want to get in for a cup of tea after that performance. It's a big deficit and now it's down to the talisman, Shiv will be asked to do what he did in the first innings. If England pick that wicket up this match could be set for a very early finish today."
TEA INTERVAL - WI 36-3
The wicket is the signal for an early tea, which can't come soon enough for the Windies. There's a real chance of this match ending tonight now, with England's lead still 119 runs. Mind you, Shivnarine Chanderpaul is the next man in and we all know what he can do.
WICKET - Edwards run out 0 (WI 36-3)
Calamitous for the Windies as a horrible mix-up between Bravo and Edwards is pounced on by Jonny Bairstow, who runs round from point to throw down the stumps.
1539 - WI 36-2: So after a solid start the Windies have lost two quick wickets and England are well on top with a long evening session still to come.
Sir Viv Richards, BBC Test Match Special: "It is a serious blow. It just goes to show how well these two were playing earlier and when you lose one, he's lost his best mate and wants to go and join him. He wasn't quite sure what he wanted to do with it and it was a very comfortable catch."
WICKET - Powell c Bell b Broad 8 (WI 36-2)
Powell's patience has been admirable but he's lost the plot here, top-edging a pull shot and sending it right down Ian Bell's throat.
Sir Viv Richards, BBC Test Match Special: "This delivery just held its own. When you have fast leg breaks like that it's going to be problematic for any batsman."
WICKET - Barath c Prio b Bresnan 24 (WI 36-1)
Bresnan concedes 10 runs in three balls in his first over then strikes with a lovely ball that moves away sharply off the seam and catches the edge of the bat.
Andrew Billingham on Twitter: "Chaminder Grass."
Ray Brook on Twitter: "Garden Greenidge. DaFidel Edwards."
Henry Hodgson on Twitter: "How about John Embur-tree?"
1527 - WI 26-0: Non-striker Powell wants a run here but he's sent back and is almost run out by a brilliant piece of fielding from Pietersen. Still plenty of short stuff from England but the Windies openers are coping well.
Jamie, Bath University, via text: "This student addiction to TMS must be a South-West thing...manual refreshing is also rife at the Bath University library!
Plenty of movement at the University of Bristol, with many more heading for the Wills Library, which is now full apparently. Those in the Arts and Social Sciences library, who are also listening/refreshing, are questioning the work-rate of their colleagues.
1523 - WI 26-0: Barath laces Jimmy through the covers for a boundary as sweet as candyfloss. Then he does very well to get the handle of his bat in the way of an Anderson bouncer which is destined for the top of his nose.
Tim HJ, Marlow, via text: "Surely Tom need look no further that Andy Flower?"
Leigh Tullett on Twitter: "Would Monty Pansy-sar make the gardening Xl?"
1518 - WI 22-0: Broad's not happy with the foot-holes out there, which seem to be interfering with his follow through but, ever the athlete, he throws himself to the ground to stop a Barath drive going for four.
John Hammond, TMS inbox: "Paul Allotment."
1514 - WI 21-0: Viv's back in the TMS box having been spotted enjoying a "sparkling water" with fellow bon viveurs Ian Botham, Allan Lamb and Phil Simmons in Piers Morgan's box. Single off Anderson's latest over. The Windies openers are battling hard.
1511 - WI 19-0: Barath played some lively shots en route to 42 in the first innings and after some stout defence he finds the rope with a lovely square drive.
1507 - WI 15-0: Shorter from Jimmy and Barath fends one off for a single. I'll follow Tom's lead with Daffodil Defreitas and Ian Bluebell. A colourful pair.
Jamie, Wills Library, University of Bristol, via text: "Wondering if the bespectacled man opposite me is either Geoff or James. Not sure if he is 'manually refreshing' or just browsing Facebook."
Tom Fordyce, BBC Sport's chief sports writer: "Menacing grey clouds parked overhead at Lord's. Suggests all sorts of wobble for the England attack. In huge news, have just found out that Alan Titchmarsh has been secured by TMS as tea-time guest. The search for gardening-related cricketers starts here. I'll open out with Alan 'Herbaceous' Border and Gladioli Small."
1502 - WI 14-0: Four slips and a gully for Broad but a Barath edge somehow gets through all of them and the Windies pick up a run.
NOT OUT - There's nothing on HotSpot, and we're pretty convinced the noise was bat brushing against pad. The third umpire takes an age before advising Aleem Dar to overturn his own decision.
UMPIRE REVIEW
Jimmy delivers an absolute pearler that does the lot, swinging, seaming and doing everything but catching the edge of Powell's bat. Another beauty and Prior claims the catch. The finger goes up, but Powell doesn't think he's out, so he sends for a review.
Geoff Boycott, BBC Test Match Special: "I have to say that if you don't play really well there's a danger it will be over tonight. With the quality of the if England bowlers, if they perform anything like as well as the West Indies this morning, some of these young inexperienced batsmen will have their hands full. They might find it's quite a tough ask. Even if they get 350 and England have to get 250 at least it's something to bowl at."
1448 - WI 12-0: One to Powell, two to Barath, Jimmy not swinging it quite as dramatically as day one. Broad looks the sharper thus far.
James, University of Bristol, via text: "Also sat in Wills Library currently trying to locate Geoff for a natter about the cricket."
1442 - WI 9-0: The hat-trick ball is something of an anti-climax as Broad tees one up short and wide outside off stump and Kieran Powell thumps it through point for four. It doesn't take Broad long to find his areas though and soon Powell is groping at everything like a randy drunk.
Gavin, Bristol, via text: "If Broady gets a wicket with first ball - will it be the first ever hat-trick where each wicket was on a different day?"
1436 - WI 4-0: The Windies are up and running with four leg byes off the first ball of the innings.
1434 - Massive apolologies for the technical problems folks, and for our rather unattractive new look. We're live again, and the Windies opening pair are coming out looking to make inroads into a 155 run deficit.
WICKET - Bell c Powell b Gabriel 61 (Eng 398 all out)
Bell pulls, but not powerfully enough, and he's caught by Powell in the deep. England lead by 155.
Phil Tufnell, BBC Test Match Special: "If you think these two won't hang around too long, they'll play some shots and want to get out there bowling, the West Indies could be five or six down by the close. They need to bat well."
1422 - Eng 398-9: So Swann goes after a quickfire 30 off 25 balls an out comes England's No.11 Jimmy Anderson with three runs needed to bring up the England 400. Bell picks up one of them, leaving Anderson to block out the rest of the Samuels over.
WICKET - Swann b Gabriel 30 (Eng 397-9)
You know Bell is feeling confident when he pulls out the late cut and he does exactly that to get himself another four and bring up the fifty partnership. Another two and a single to Bell before Gabriel sends one through a bit quicker and Swann is bowled off his pads.
1414 - Eng 390-8: Sammy is going to give Samuels a twirl now but there's no sign of the runs letting up as Bell paddle sweeps for a couple before cutting to deep point.
Geoff, Wills Library, Bristol University, via text: "As each ball is bowled the likeliness of me getting an acceptable mark in my finals slowly evaporates."
BELL FIFTY
1410 - Eng 387-8: Roach drops one a bit shorter to Swann but he's seeing it so early that he rocks back and pulls it in front of square for four! A single gives Bell the strike on 49, and he gently pushes into the off side for a single to reach his half-century off 92 balls. Swann is going for everything now, and a backfoot drive produces his fifth boundary of the innings.
1407 - Eng 375-8: Stunning shot from Swann as he clips one through midwicket for four. Impeccable timing and still no short ball. Paul Collingwood is taking a break from his Durham travails to join Aggers and Vaughan in TMS towers. He's been given a big build up but we haven't heard a word from the former England all-rounder yet.
1400 - Eng 368-8: Swann continues to belie his position at number 10 as he lays into a half-volley and picks up four more then clips a full toss off his toes for two. The Windies haven't bowled any short balls at Swann yet.
1356 - Eng 360-8: TV have focussed on a couple whose picnic ticks all the Saturday at Lord's boxes. They've got champers, strawberries, a cheese board, two bottles of Rose and even a salt and pepper pot. Their contented munchings are briefly interrupted by a powerful pull to the boundary from Bell, who may just be thinking about going through the gears a bit here as he starts to run out of partners.
Michael Vaughan, BBC Test Match Special: "If you look at the context of the match, Strauss's hundred is huge. Take 122 off that scorecard and it could be level pegging, so it was a tremendous knock to set the foundations."
1353 - Eng 354-8: Kemar Roach is recalled to proceedings as the Windies look to rattle through England's last two wickets. Swann throws the bat again but is denied a boundary by a diving stop, the like of which we have seen far too little from the tourists.
Tommy, from Edinburgh, via text: "At a club outside Hampden before the biggest cup final in Scottish football history and my Jambo mates are giving me dogs' abuse as I keep checking my phone for updates on the cricket."
1348 - Eng 351-8: Swann is greeted by a stomach-high beamer, for which Edwards apologises. He then plays away from his body and a thick outside edge sails through the vacant third man area for four. The next ball is fuller and Swann dispatches it through the covers for another four.
Michael Vaughan, BBC Test Match Special: "Broad was expecting a short ball. It didn't do a huge amount - it just came back a little. Stuart Broad will be walking back thinking, 'I just missed it'."
WICKET
Broad b Edwards 10 (Eng 342-8): Fast and straight from Edwards as he spears one through Broad's defences. The ball catches the top of the bail and England are eight down.
Nick Hall on Twitter: "Bit premature and harsh talking about a batting collapse. England will make 420, and really put the pressure on the WI batsmen."
1337 - Thanks Tom. There's a festive feel to things here at MediaCity Salford as well, with kids doing tricks on BMXs, hula-hoops, a brass band, roller-skating and all sorts of capers. It's all to get us ramped up for the Olympics I believe, but it's just not cricket.
Tom Fordyce, BBC Sport's chief sports writer: "Decent morning for the West Indies attack, Kemar Roach the pick, but with England's lead at almost 100 the match is moving on. Lunchtime entertainment at Lord's: a marching band who appear to be dressed as pupils at Hogwarts. Magical scenes."
1307 - Soup and sandwich time for us but there's a treat for TMS listeners as Aggers interviews broadcasting legend Bob Harris in this lunchtime's View From the Boundary.
Sir Viv Richards, BBC Test Match Special: "I would say it is balance even this morning. West Indies will be happy with themselves because this is one of the better sessions they have had. It's very interesting, this game."
Chris Beer on Twitter: "Would everyone pipe down about minor league stuff? I'm trying to follow the game from inside the womb."
1303 - LUNCH INTERVAL
Eng 341-7 (Lead by 98): Broad pushes Sammy through point for two but is beaten by a beauty from the penultimate ball before the interval. A good morning for the Windies, England will be very disappointed if they can't get this score up to 400 after luncheon.
Kit Tenant-Flowers on Twitter: "An England batting collapse, the first definitive sign that summer has arrived at our fair shores."
Charlie Latto on Twitter: "Ah an English batting collapse.... as traditional as the Queen or a Sunday Roast!"
Ad Harkin on Twitter: "I feel much more at home now, watching an England collapse brings the memories flooding back."
Sir Viv Richards, BBC Test Match Special: "This match has got a long, long way to go. England have got to stamp their mark on this match but it's important that Broad stays."
1258 - Eng 339-7: Broad isn't really on message here as he aims a pull shot at Gabriel but misses the ball by some distance. He connects with the shot from the next ball and gets a single to fine leg but almost treads on his stumps in the process.
Pete, Manchester, via text: "Shopping update. Went with 'That looks nice'. Played a blinder and on tram home ready to catch the afternoon session. Thanks guys."
1254 - Eng 337-7: The baby-faced Broad has a bit of a dash outside off stump but doesn't middle it and it's just a single. Bell has a quick word with him - important I would think that England get to lunch without any further inroads.
Jane, Portsmouth, via text: "Anon, Royal Berkshire, still minor league stuff. I'm following as I AM in labour!"
1249 - Eng 335-7 (Lead by 92): Bell (Lord's average 64) gets a pair of twos interspersed with a rare loose shot as he's beaten all ends up by Gabriel. Horribly slow over-rate from the Windies, we're 10 minutes from lunch and we've had 21 overs this morning.
Geoffrey Boycott, BBC Test Match Special - on Bell: "I think he was the best batsman in the world last year; his record was fabulous. He's had a poor winter when he struggled in the sub-contintent. Most batsmen have had a lean time, a loss of form, a loss of confidence. You've got to pick yourself up and he's capable of that."
Chris Friend, TMS inbox: "Tuffers' comments about running fours and fives, reminded me of an evening 20/20 league match in Monmouth some years ago, when I captained underdogs Penalt, a local village side. Put in to bat, we scored 10 off the first two balls and they were all run!"
1244 - Eng 331-7: Broad isn't going to stand on ceremony here and he serves notice of his intent to attack with a slash at Sammy which earns him four via a thick outside edge.
Alec Stewart, BBC Test Match Special - preparing to watch his beloved Chelsea in the Champions League final against Bayern Munich tonight. On Twitter: "Just landed in Munich now. The Germans have provided a clear Blue sky to greet the CFC fans."
1241 - Eng 327-7: Bell gets two to fine leg off an otherwise runless Gabriel over. Incidentally, when Prior was out he very carefully replaced his bat on the shelf in the England dressing-room, unlike last year when, as you may remember, he caused a right hoo-ha by smashing a window in a post-dismissal tirade. It led to lots of claim and counter-claim before Prior apologised to a female spectator who was injured by some falling glass.
Anon, Royal Berkshire Hospital, via text: "Antenatal class? Minor league stuff. I'm following as my wife is in labour! Got to dash now, doctor has arrived...."
1236 - Eng 325-7: A huge cheer for Stuart Broad at the ground where he now has a place on the honours board for batting and bowling following his 7-72 in the Windies' first innings. He's off the mark with two off the last ball of Sammy's over.
Peter Gowers on Twitter: "England batsmen have realised that getting out is our best chance of winning with the impending weather. Very smart."
Jarleth Eaton on Twitter: "England typically letting the other side in with another collapse."
Tom Lambert on Twitter: "Re Will Collins, 1157, I think Boycott was guilty of the worst mockers, saying he'd bet his three houses that England would beat Pakistan!"
Sir Viv Richards, BBC Test Match Special: "Bresnan had to play at it. He was hoping the ball would come in with the slope but it held its own. Not a bad delivery and Ramdin took an easy catch."
WICKET - Bresnan c Ramdin b Sammy 0 (Eng 323-7): Bell times a cover drive perfectly to pick up three runs, his elbow high, his head still. Then Sammy gets one to move away from Bresnan, who has a nibble and feathers an edge to the keeper.
1230 - Eng 320-6: Prior's shot gets uglier by the replay. You could have driven a tractor through the gap between bat and pad. Grey clouds loom over Lord's as Gabriel sprints to the crease to deliver some missiles to Bresnan but Big Tim is as solid as a rock cake as he keeps out his first five balls.
Jason, Londonderry, via text: "Re Joe in London 1201, it's hard to feel sympathy for you when you contributed to the need for an antenatal class! More sympathy for the men dragged along shopping I'm afraid."
Geoffrey Boycott, BBC Test Match Special: "That wasn't full enough to drive. It wasn't there. Gabriel deserved that for the way he bowled yesterday."
WICKET - Prior b Gabriel 19 (Eng 320-6): I know, mockers etc... Prior aims a very ambitious drive at Gabriel and is bowled through the gate to give the young paceman his first Test wicket.
1223 - Eng 320-5: Three singles off Sammy. Prior is still motoring along at more than a run a ball and this partnership is building very nicely for England, each well-placed single taking the game further away from the Windies.
Nick, Cornwall, via text: "Pete in Manchester, 1120, a potentially snarly situation. My missus spent an hour in the bathroom trying on a new outfit and appeared in the doorway and asked 'do I look big in this?' My reply 'Well it is quite a small bathroom' was the wrong thing to say apparently."
Richard, Sheffield, via text: "Pete in Manchester, a knowing nod followed by the words: 'They're never very generous with their sizings in this shop'."
1220 - Eng 317-5: Gabriel is slightly off the money today and he puts one in Bell's favourite area, resulting in a square cut to the fence.
Chops on Twitter:"Bottle just opened itself. Cork hit the roof of The Grand. Got a cheer from the very few rows behind us."
1214 - Eng 312-5 (lead by 69): Apparently the Windies bowled more no-balls than maidens yesterday and there's another from Kemar Roach. It's one of many contributing factors to a pitiful over rate. Roach ambles back to his mark and feeds Prior a leg-stump half-volley that is given the treatment.
Fred, en route to school cricket match, via text: "Today was all about proving his worth for Bairstow, and he has surely proved that he belongs in that middle order with his brief spark of batting. Although a new bat might be in order."
1209 - Eng 306-5: Big Shannon Gabriel is immediately worked for a single by Prior, who has sailed off at a rate of knots. Bell then comes over all KP and cross-bats the ball down the ground, prompting some disapproving noises from Boycs.
Tom Fordyce, BBC Sport's chief sports writer: "Slight air of deflation at Lord's after both Strauss and debutant Jonny Bairstow are sent packing in the first hour. Stands packed from Compton all the way to Edrich, but morning newspapers and live text commentaries on smart phones absorbing majority of attention at the moment."
Joe, in London, via text: "At antenatal class. The midwife keeps catching me refreshing the score while she talks us through waters breaking etc."
1201 - DRINKS BREAK
Eng 303-5: Roach has been the pick of the Windies bowlers today by some distance and he's asking plenty of questions of Belly, getting him on his toes with some short stuff. Another Lord's spot: man in egg-and-bacon blazer, sharing headphones with his neighbour, while pensively picking his nose. Time for drinks.
Will Collins, TMS inbox: "Mr Vaughan must be way ahead in the 'Mockered wickets' table, It seems every time he dares to mention an England batsman looking good they fall within three balls. I imagine Sir Geoff is propping up the table, loath as he is to praise anybody!"
1157 - Eng 302-5: A single to Bell off Sammy takes England's lead to 50 before Prior unfurls a magnificent on-drive past the bowler to get off the mark with a boundary. Then Prior benefits from another Windies misfield to collect two before flicking through midwicket for three. Splendid start for Prior on the ground where he made a ton on debut five years ago and a good chance for me to plug Stephan Shemilt's splendid feature on the England stumper.
Michael Vaughan, BBC Test Match Special: "West Indies are learning in these conditions. They're exactly the same conditions today - maybe a little bit warmer. We've seen swing from Fidel Edwards this morning, some nip from Kemar Roach. It's going to take them a few innings to get used to lengths, conditions. A good start for them."
1153 - Eng 292-5: A warm welcome for Matthew Prior, who safely blocks his first ball, the last of the over. No dispute over Bairstow's dismissal by the way - the ball nipped back down the slope and would have struck the inside of leg stump. Bell wisely informed him that to use up England's last review would be frivolous.
WICKET - Bairstow lbw b Roach 16 (Eng 292-5): Bairstow is bubbling up very nicely and he's catching up with Bell here as a square drive flies to the boundary. Then he misses a straight one and he's rapped on the knee-roll. The finger goes up and his entertaining cameo is over just when it was getting going.
Daz in Cornwall via text: "Pete in manchester, it's a trick question. At best it is a stalling tactic, deployed to scupper your chances of catching the afternoon session. Usually the reply 'it looks lovely dear' will facilitate a swift return to the car and your chosen method of media coverage. Good luck!"
Dibs in Bebington via text: "Pete in Manchester, no trick I'm afraid, she has just got you with an absolute Jaffa. It's unplayable, admit defeat and retire to the pavilion to watch the rest of the afternoon's play."
1146 - Eng 287-4: TV have picked out a man sat on a bench taping up Bairstow's favourite blade, so maybe it will be returned to him soon enough. Another nice flick of the wrists gets him two to fine leg. Edwards tries to unsettle the Yorkshire tyro with a bouncer but Bairstow anticipates and is ducking almost before the ball is released.
Anon, en route from Paisley to Manchester, via text: "Just want to spend the day on sofa with a duvet, lots of wine and the Test, play-off final, Heineken Cup and Champions League on telly but instead condemned to attend a dear friend's hen do. Catastrophic scheduling fail."
Michael Vaughan, BBC Test Match Special: "That bat got him a lot of runs so he won't be happy to have to give it up. Getting a new bat can affect you as a batsman."
1141 - Eng 284-4: More easy runs for England as Roach bowls a no-ball and Bell gets himself a single from a defensive push. Then four more to Bairstow with a lusty clip off the toes. Oh, it looks like he's broken his bat - there's a dent in the toe and he's calling for some tape. Looks like it's a write-off so Bairstow reluctantly accepts a new bat, which he immediately deploys to work a single to fine leg.
Another Lord's spot: TV's Alan Titchmarsh sporting a tie the colour of lush Lord's outfield.
Michael Vaughan, BBC Test Match Special: "Already this morning West Indies have moved the ball more than yesterday. They're an inexperienced attack and they've not bowled much on this tour, but they're going to get better and better as the tour goes on."
Ed in Leicester on Twitter: "Pete in Manchester, to that or any variant, the only acceptable answer is: 'You look lovely darling'."
Neil Adam on Twitter: "Pete in Manchester, just don't try the stuff on. It'll never fit."
1133 - Eng 277-4: I'm a fan of Bairstow's stance - he looks big and imposing, brimming with purpose. And he finds the boundary with a flick of the wrists to a waist-high delivery.
Gavin, Leeds, TMS inbox: "Malcolm Ashton, BBC Test Match Special statistician: 'Strauss has resumed on overnight 100 six times before - and never added more than 6 runs.' Can you ask Malcolm what's going to win the 3.30 at Haydock please?"
1129 - Eng 273-4: Bairstow's first run in Test cricket is a scratchy affair, a prod to mid-off then lots of 'shall we shan't we' and a mad dash to the non-striker's end.
Ashleigh Davies on Twitter: "Bairstow doffing his cap to the great Brian Close by chesting away that first delivery."
1125 - Eng 271-4: Bell punches through midwicket and the pacy duo run four. Then a fumble gets Bell two more. I've spotted another Lord's standard - a punter leafing through a copy of the Financial Times, the cricket a mere backdrop to his stockmarket musings.
Phil Tufnell, BBC Test Match Special: On the England debutant: "He's a very aggressive middle-order player. He'll look to get on with it. He can play the longer innings, but if he gets to 20 or 30 he enjoys humping the ball. West Indies will be thinking, let's try and get a couple more wickets quickly."
Pete in Manchester via text: "Out clothes shopping with my wife for her birthday. Thank the lord for smart phones. Can anybody remind me how we survived before live text? Question for the punters, when my wife asks, does this look too small on me, is that a trick question?"
1120 - Eng 266-4: So Strauss's poor record after resuming on a hundred continues. Jonny Bairstow strides out for his Test debut and immediately wears one on his chest. He doesn't flinch but that will have hurt. He gets bat on his second ball and earns a big cheer and is then beaten outside off stump. Bairstow can play, you know: he averages 46.42 in 52 first-class matches and 89 innings.
Phil Tufnell, BBC Test Match Special: "It was a decent ball by Roach - good pacy delivery that just nipped back at him. As soon as Ramdin caught it he was straight up - he was very confident. West Indies obviously had a talking-to last night to buck their ideas back."
WICKET - Strauss c Ramdin b Roach 122 (Eng 266-4): HotSpot does its job. There's a clear mark on the inside edge before the ball struck his thigh and went through to the keeper. Umpire Erasmus raises the finger and the skipper has to go.
1115 - UMPIRE REVIEW: Now then, a big appeal as Roach steams one right through Strauss. Ramdin is up appealing. It's given not out but this one is going upstairs...
Stefan from Scaynes Hill Cricket club via text: "Bell to hit a ton today! A jug of Pimm's is resting on it after today's village cricket game."
1112 - Eng 266-3: There are some big gaps in the Windies field and Bell gets a run from a routine defensive shot that dribbles between point and cover. Strauss then works one off his pads for his first run of the day.
Mark Butcher, BBC Test Match Special: "England are going to look to play an hour at a time. It's a cliche but a good one. It's important that Strauss and Bell build on what they did yesterday and don't give their wickets away. West Indies will be thinking, if we get a wicket here, we get a debutant in."
1109 - Eng 264-3: Sizzling start from Bell as he puts away a half-volley from his first ball. Then he pushes to mid-on for another run to move his score into double digits. We've mentioned the champers, hampers, loafers and boaters, what other Lord's staples do we expect to see today?
1103 - Eng 259-3: Fidel Edwards looked in a far bit of pain yesterday when he pulled up with a leg injury in the last over, but he's back today, and he's straight into a decent rhythm as he concludes his over. Strauss leaves one that swings in fairly close to his off timber, but he's safe and the we're up and running for the day.
Phil Tufnell, BBC Test Match Special: "If West Indies don't get wickets with this new ball they can see the game slipping away from them. If they don't get them five or six down by lunch there will only be one or two results."
Ralph Brooker on Twitter: "I suspect that all critical eyes have swivelled in Ian Bell's direction."
Lily Johnston on Twitter: "With the depth of our batting line up and the toothless display of the West Indies bowlers thus far, 500+ has got to be our aim."
Mark Butcher, BBC Test Match Special: On Strauss's return to form: "It's a question of faith - you practise hard, do all the same things, keep it as simple as you can and hope that everything flows from that. It's a big lift for the team. The captain can now look all his players in the eye - it takes a lot of pressure off him and takes a lot of pressure off the rest of the guys. This pitch is an absolute belter. What a great day to be 121 not out."
What are you up to today then? Trying to convince the other half that watching the Test match, Championship play-off final, Heineken Cup final and Champions League final is a worthy way to spend a Saturday? Get in touch in the usual ways. Send an email to tms@bbc.co.uk with For Sam Sheringham in the subject line, text us to 81111 (UK), or tweet via the hashtag #bbccricket.
Malcolm Ashton, BBC Test Match Special statistician: "Strauss has resumed on overnight 100 five times before - and never added more than 6 runs."
1046 - Some great reaction to and analysis of Strauss's hundred on the site today. Jonathan Agnew has dismissed all talk of a media witch-hunt against Strauss as "utter nonsense", while Alec Stewart gives a fascinating insight into life as captain struggling for runs in Tom Fordyce's blog. And while we're on the subject, it's my duty to inform you that Stewart won't be on 5 live duty today, as he's halfway to Munich to watch his beloved Chelsea in some football match or other. But for one Surrey and England batsman, read another. Mark Butcher is stepping into Stewie's ample shoes.
1035 - Yes we're all primed for another cracking day of leather on willow at the home of cricket, with England set to resume on 259-3, 16 runs ahead of the Windies. Strauss is 121 not out, with Ian Bell keeping him company on five. Jonny Bairstow is in next and with Graeme Swann at number 10 this English batting line-up has longer legs that Jerry Hall. Could be another long day in the field for the Windies.
Tom Fordyce, BBC Sport's chief sports writer: "Warm and cloudy at HQ. Two big questions dominating talk in the streets of St John's Wood: can Skipper Strauss go on to make a Papa hundred (and maybe even his first Test double ton), and how will young buck Bairstow perform on his big Test debut?"
1030 - The champers, the hampers, the loafers, the boaters. Saturday at the Lord's Test: a very English institution.