Jonathan Agnew column: West Indies show fighting qualities

By Jonathan Agnew
BBC cricket correspondent
Last updated on .From the section Cricket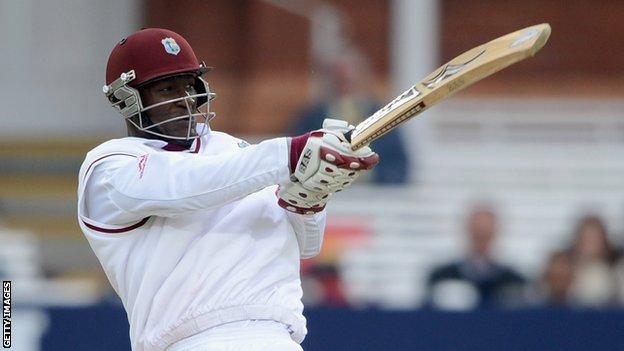 We have said throughout this first Test that this West Indies team have shown far more commitment and discipline than when they were last here three years ago, and the dramatic end to an unexpected day totally confirmed that.
They have had a terrible build-up to this series - hit by bad weather, indifferent form and even problems with visas, and it looked for all the world as if we would see a repeat of the one-sided series whitewash of 2009.
That now looks unlikely. After their excellent rearguard batting display they will have been really pleased, but known that they would have to bowl very well indeed to win the game.
Kemar Roach's late dismissal of captain Andrew Strauss and night-watchman James Anderson, leaving England with 181 more runs to get with eight wickets in hand, means we will now have a very interesting final day on Monday.
I saw team manager Richie Richardson before the start of play, and he said that his side needed hundreds from Shivnarine Chanderpaul and Marlon Samuels to have a chance in this match.
I thought he was probably right. A target of 240 would be significantly harder than the 191 England were left.
But whatever transpires on Monday, West Indies can look back and know that they have fought hard and impressed many.
I thought Darren Sammy did very well on Sunday as captain. There has been all sorts of talk about whether he's a good enough cricketer to be worth his place in the side, but he played it exactly right with his attacking 37.
Chanderpaul and Samuels had blunted the attack, and it then needed the remaining batsmen to put some runs on the board at a more rapid rate.
I felt England maybe went on the defensive a little too quickly in the field.
At the start of Chanderpaul's innings they had an extra cover in but no third slip, and we then saw a couple of edges fly through that vacant position.
On Sunday, when Graeme Swann was bowling from the Nursery End to Sammy when he was just in, they had a long on back.
When you have a new batsman at the crease then you sometimes have to entice them into doing something rash. England have a plan of throttling runs from the opposition if they're not taking wickets, and that's fine - but there are certain occasions when you need to be more positive.
Stuart Broad, however, deserves great praise for his 11 wickets in the match. If he continues bowling like this - on that line and length, just on or outside off stump - he will continue taking wickets.
He's programmed now to bowl like that. It's imprinted on his mind.
He went through a long period when he wasn't quite sure what sort of bowler he should try to be.
England seemed to want him to be a strike bowler, an out-and-out quick who could bang him in, but that was trying to fit a bowler into a preordained pattern rather than building the tactics around the personnel.
The nadir was reached against Australia here at Lord's in 2008. I saw his father Chris that day and he was furious - but what could Stuart do? When you're young and newish to the side you'll do what your captain and coach ask.
Not any more. The method is now established and the results speak for themselves.
This Lord's pitch remains slow. There's very little in it for the seam bowlers, so England will hope to see the shine off the new ball and then go on to win the match.
But no-one can forget what happened in Abu Dhabi, when they were rolled out for 72 chasing a much lower total. We will have a fascinating finale.
Listen to how the fourth day of the international summer unfolded on the TMS podcast.