England v West Indies: Graeme Swann confident of victory
Last updated on .From the section Cricket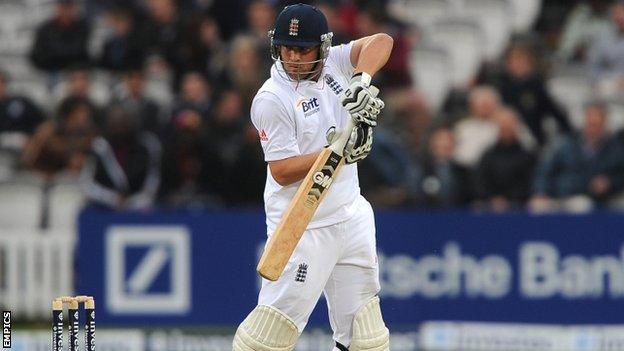 Graeme Swann insists England are "fairly happy" with their position despite losing two late wickets against West Indies.
Chasing 191, England finished at 10-2 at the close of play on day four, after losing Andrew Strauss and night-watchman James Anderson.
But Swann is not concerned by the situation going into the final day.
"We're fairly happy. Cookie (Alastair Cook) and Trotty (Jonathan Trott) will be confident out there," he said.
"It was tough going for a lot of the day and it was always going to be a tricky 10 or 15-minute period in the gloom and it was a shame to lose the captain but we're not too fussed about Jimmy."
Swann paid tribute to fellow bowler Stuart Broad, who joined Ian Botham as the only Englishman to have completed a Test century, taken five wickets in an innings and 10 in a match at Lord's.
Broad finished with 11 wickets, and Swann is even more impressed with the display, given his fellow Nottinghamshire bowler's county performances this year.
Swann added: "Broady is one of these guys who will look back at the end of his career and be on honours boards all over the world, although I'm still shocked he got that 180 against Pakistan.
"I played all of the games at Notts with him this season and he struggled for rhythm a little bit but he's a big-game player and he hasn't looked back from the first session here.
"It will mean a lot and he was over the moon when he got there."
Although Shivnarine Chanderpaul's stubborn 91 helped West Indies edge to a total of 345, Swann felt it was still a vital wicket when it came.
He said: "He batted very well. The wicket was flat and the ball was out of shape but he's a difficult man to bowl at. We knew getting him out would open up one end and it made sure we bowled them out for less than a 200 lead."
Chanderpaul believes West Indies have given themselves a good chance of victory.
He said: "I'm hoping it will be enough. It's there on the board and we have a good bowling attack and we'll put the ball in the right areas, be patient and anything is possible.
"It was really good for us to get the two wickets and hopefully we can take that momentum into the fifth day."
Listen to how the fourth day of the international summer unfolded on the TMS podcast.