Ramnaresh Sarwan: West Indies to blame for my team absence
Last updated on .From the section Cricket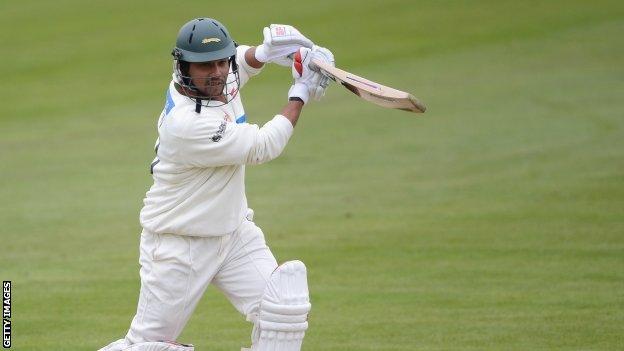 Ramnaresh Sarwan claims the negative actions of "certain individuals" in the West Indies coaching set-up have been behind his absence from the team.
Sarwan averages more than 40 in Test and one-day internationals but has not played for the Windies since July 2011.
He was told by selectors in September 2010 to get in shape after failing to earn a central contract for that year.
However, batsman Sarwan told BBC Sport: "[The coach] said some negative stuff that hurt me mentally and emotionally."
The 31-year-old refused to name the coach or coaches involved, but added: "Mentally I was broken down, not from the stress of playing, it's just certain individuals have drained me mentally.
"It took a toll on my confidence and the way I play. Everything went away."
Sarwan, who captained West Indies in four Tests including two on their 2007 tour of England, joined Leicestershire as their overseas player for the 2012 season and has returned to form, scoring two centuries and two half centuries in the opening few weeks of the season.
"The fact that I'm away from all those problems, my mind is at ease and I have nothing to worry about, no coach to say any negative things," he continued.
"At one point I didn't know which was my back foot and which was my front foot. Now I'm much better, more precise with my movements, everything crystal clear in my head."
In 2010, West Indies said Sarwan's "extremely indifferent attitude and sporadic approach towards fitness" was the reason behind not awarding him a central contract.
But Sarwan sees the story differently.
"[The coach] said some very negative stuff about me, things that were hurtful, hurt me mentally, emotionally," he said.
"I never spoke about this because I was caught up in a shell and I used to not come out of my house for up to three days.
"My dad was the one to inspire me to start back playing. I was going to stop because they were getting the better of me but when I saw him break down emotionally that inspired me.
"I'm thankful to [Leicestershire] for giving me the opportunity."
However, even if his form prompted a recall to the national squad, Sarwan is adamant he would not be rushing to return.
"I need to play a full season to find my feet and I owe [Leicestershire] because they've invested in me," he said.
"I'm big on principle and when I was in the dust being kicked by my own people I was given an opportunity by this club and I will not forsake that or betray anyone.
"I don't want to find myself in a situation where I was two years ago, where I couldn't have fun.
"My happiness is utmost and the most important thing to me. I want to stay focused and forget about [what has gone before]."